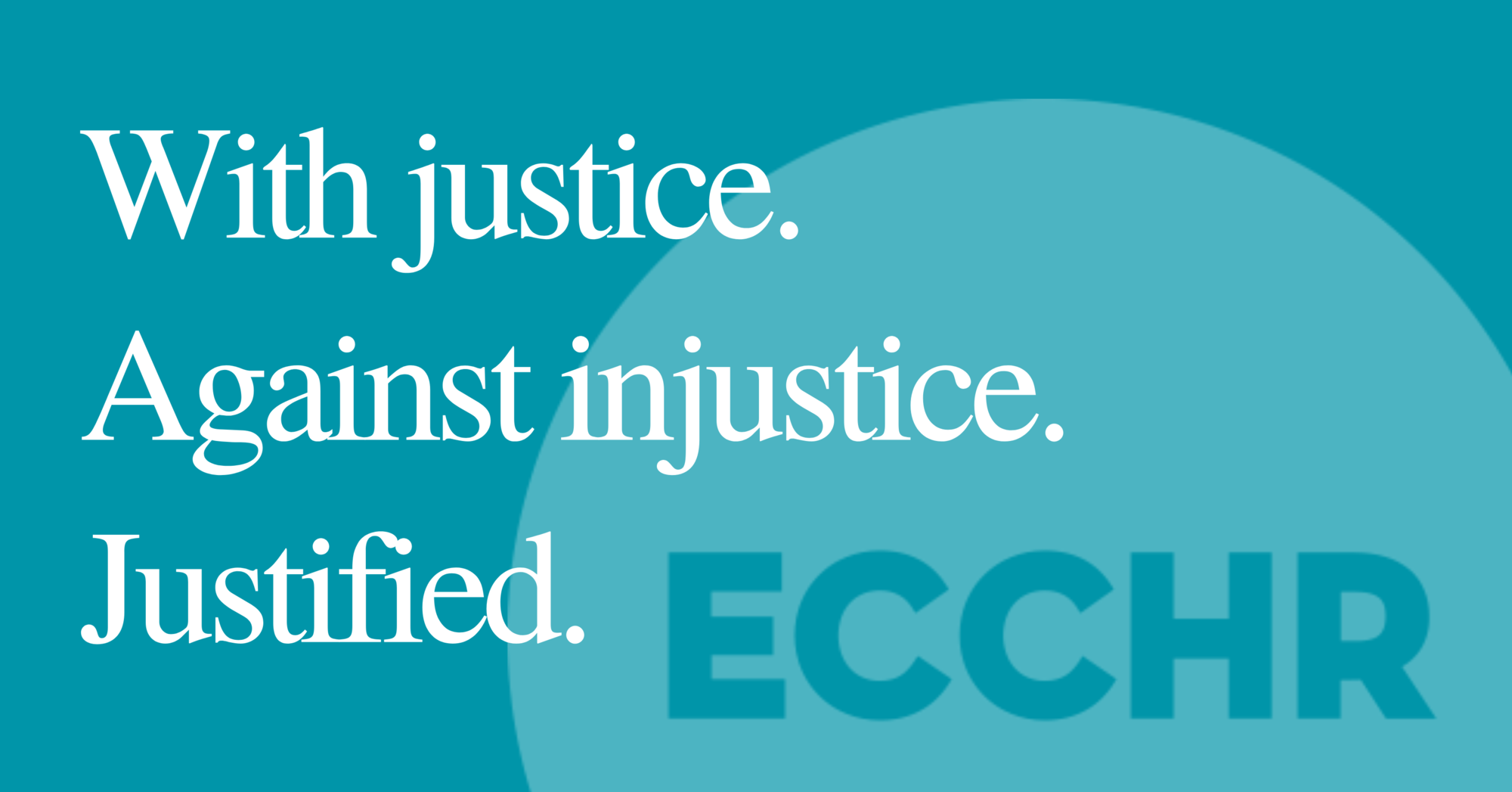 Seminar on the "World Law Principle" with the ECCHR
As part of the long-term documentation project of Women for Justice e. V., our members attended a seminar organized by female employees of the EUROPEAN CENTER FOR CONSTITUTIONAL AND HUMAN RIGHTS E.V. (ECCHR for short). Together with those affected and partners worldwide, ECCHR uses legal means to end impunity for those responsible for torture, war crimes, sexual and gender-based violence, corporate exploitation and fortressed borders.
The seminar focused on the "principle of world law" and case studies of trials against IS supporters in Europe.
Intensive planning for the reconstruction projects
In August, our members met to intensively discuss the plans for the reconstruction projects of Women for Justice e. V., which we implement with our cooperation partners* in Shingal. In addition to the content and concrete orientation of the projects, the conditions of cooperation and ideas for public relations were discussed.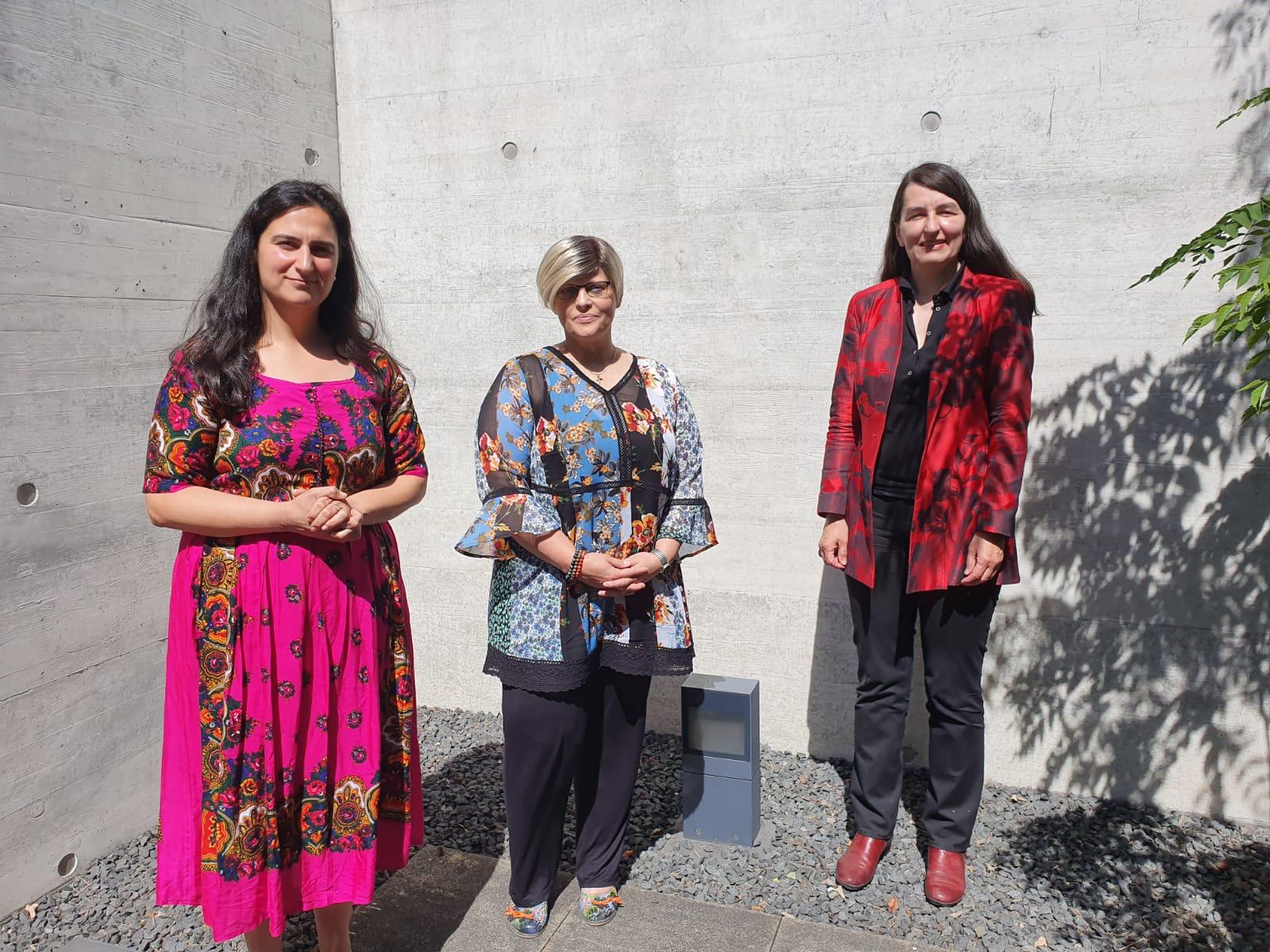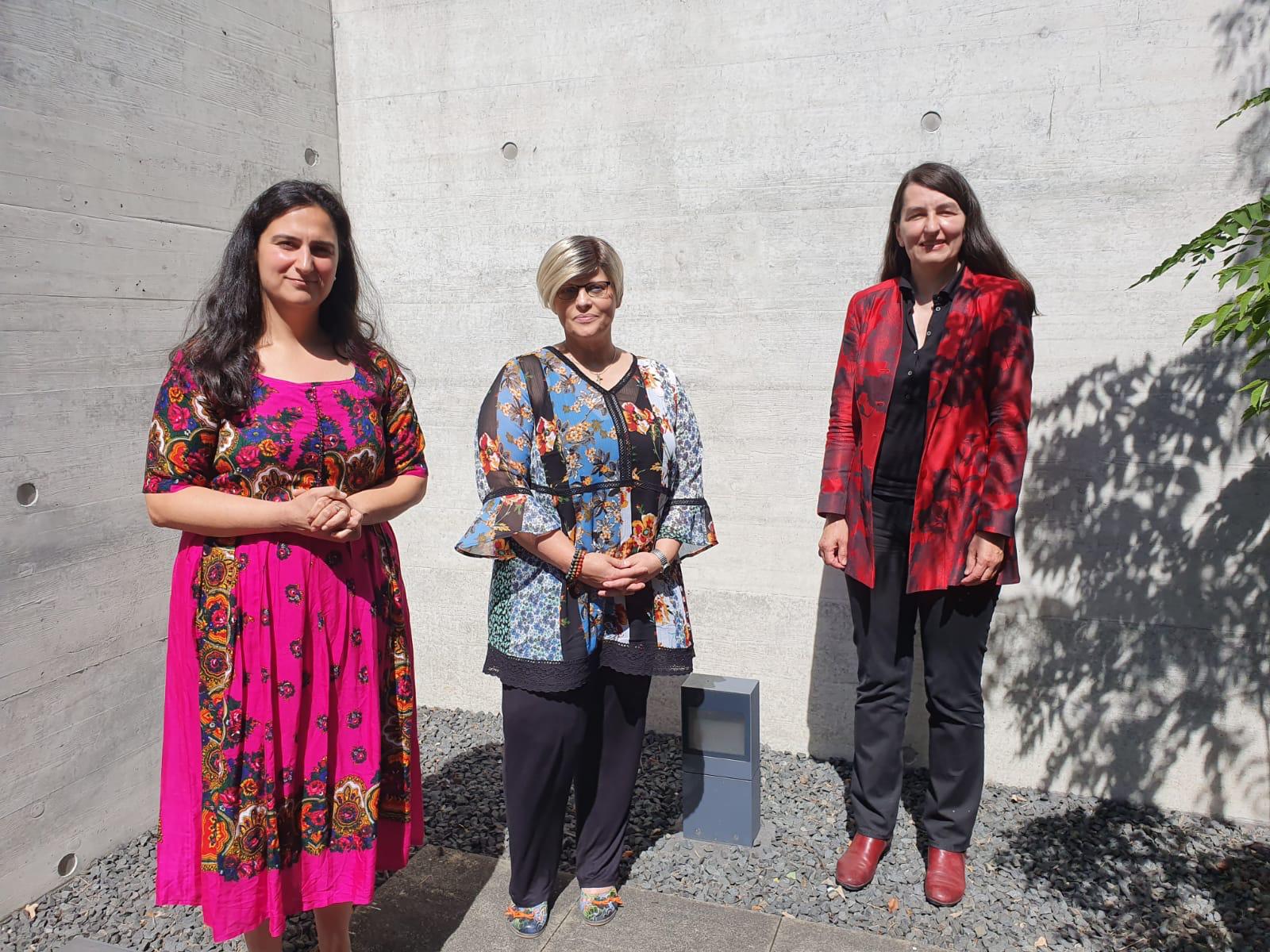 Exchange with Kirsten Lühmann on cooperation with the Bergen-Belsen Memorial
Members of Women for Justice e. V. met on site with Kirsten Lühmann (SPD), member of the German Bundestag, for an exchange on the project with the Bergen-Belsen Memorial.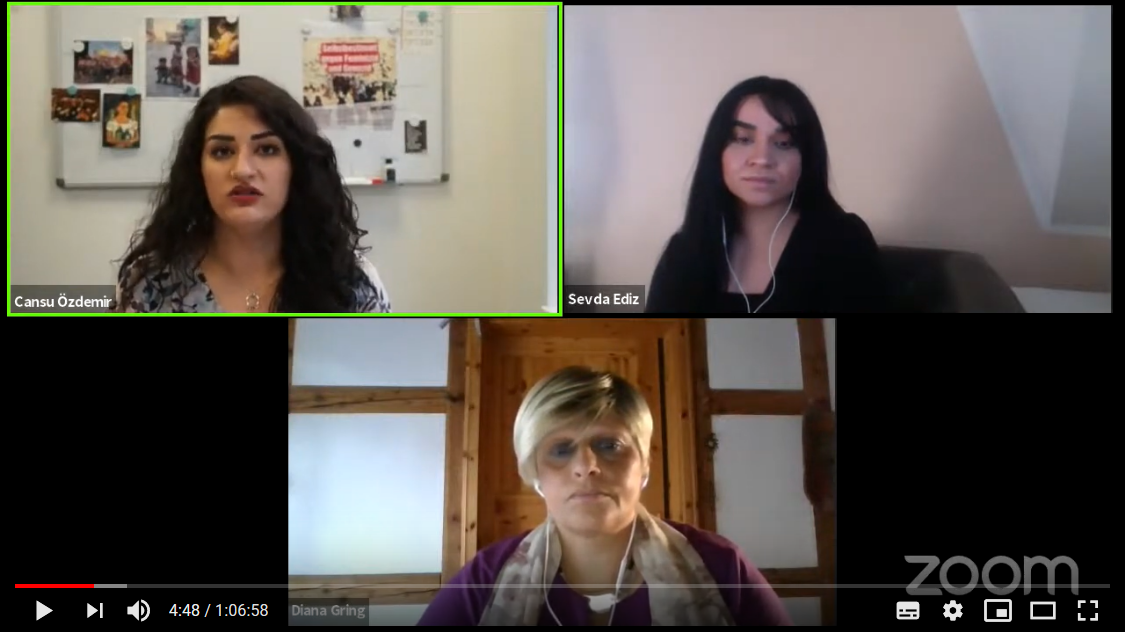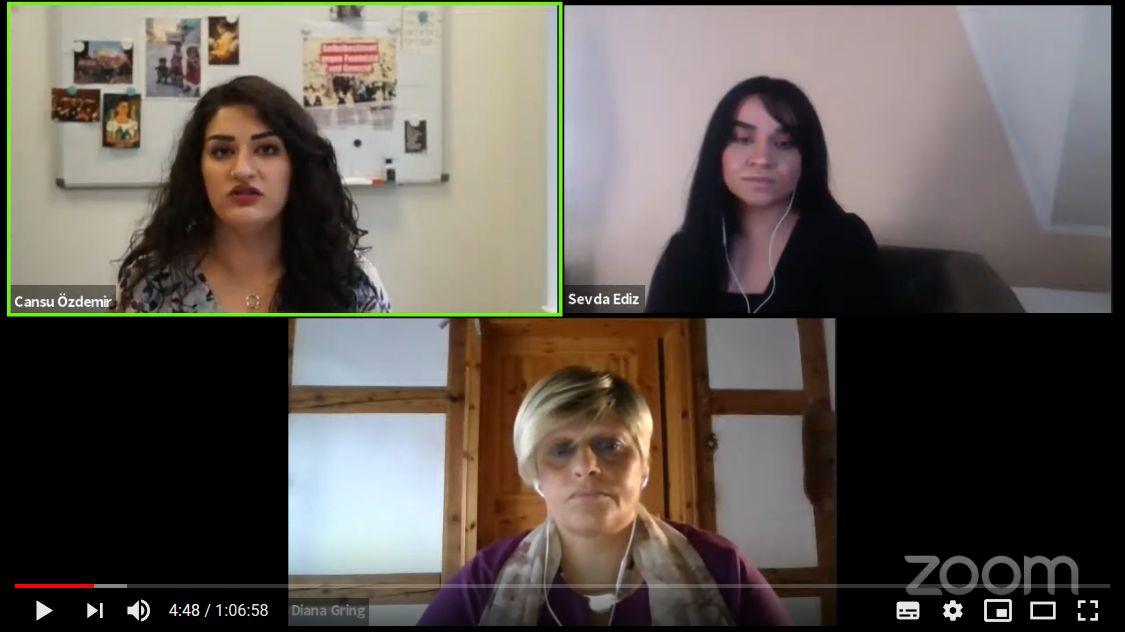 Online Panel "Self-determined against Feminicide and Genocide" with Cansu Özdemir
On the occasion of the international day of action for the six-year anniversary of the massacre by the Islamic state in Sinjar on August 3, 2020, Cansu Özdemir (MdHB, DIE LINKE) discussed with our deputy chairwoman Sevda Ediz and Diana Gring (historian at the Bergen-Belsen Memorial and trauma pedagogue). The so-called Islamic state has cruelly executed thousands of Yazidis (Ezidis) in the region of Sinjar in northern Iraq, and has kidnapped, raped and sold mostly Yazidi (Ezidi) women and children. Even today about half of the Yazidis are still missing and are in IS-prison. Some German citizens are currently on trial in Germany and are held responsible for the enslavement of Yazidi young girls and women.
The video is available here: Self-determined against feminicide and genocide
Subtitles for different languages can be created automatically.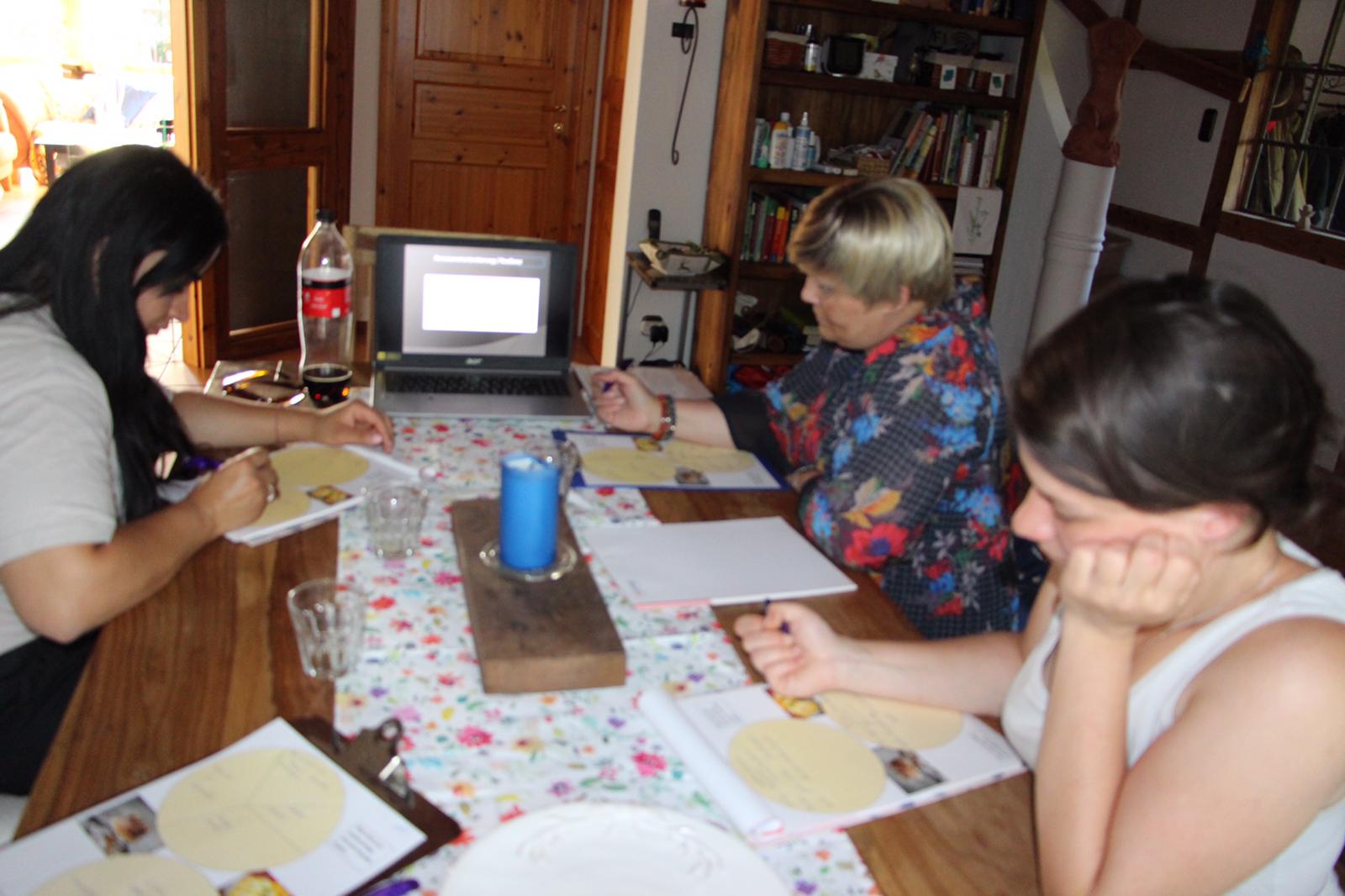 Internal training in dealing with trauma
In July, we met as members of Women for Justice e. V. for an internal training on "Dealing with Trauma at Work". On the one hand the workshop included theoretical introductions to trauma and trauma consequences, supervision as well as work with traumatized people and traumatizing issues. On the other hand, discussions, self-reflection and practical exercises were also part of the interactive program.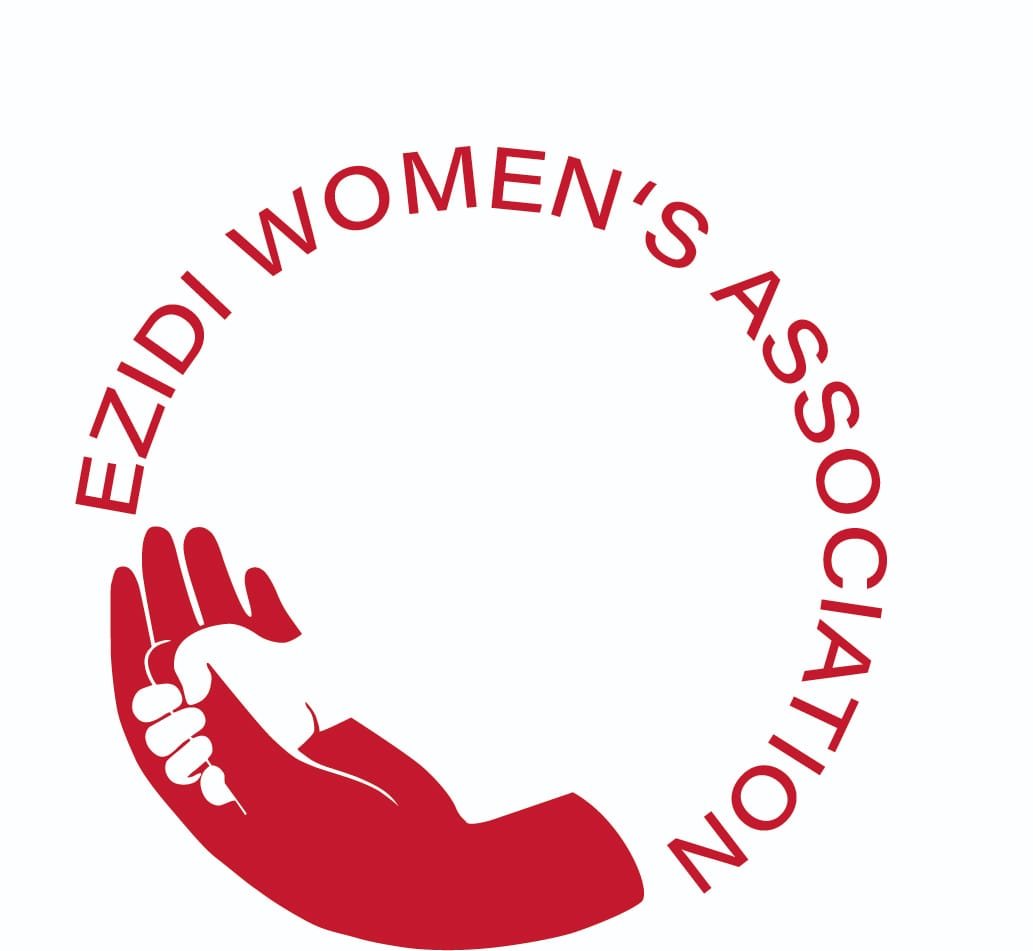 New name, new logo of our partners in Sinjar
Our partners in Sinjar have a new logo and a new name. The "Ezidi Woman Support League" has changed its name to "Ezidi Women's Association" and has given itself a new logo.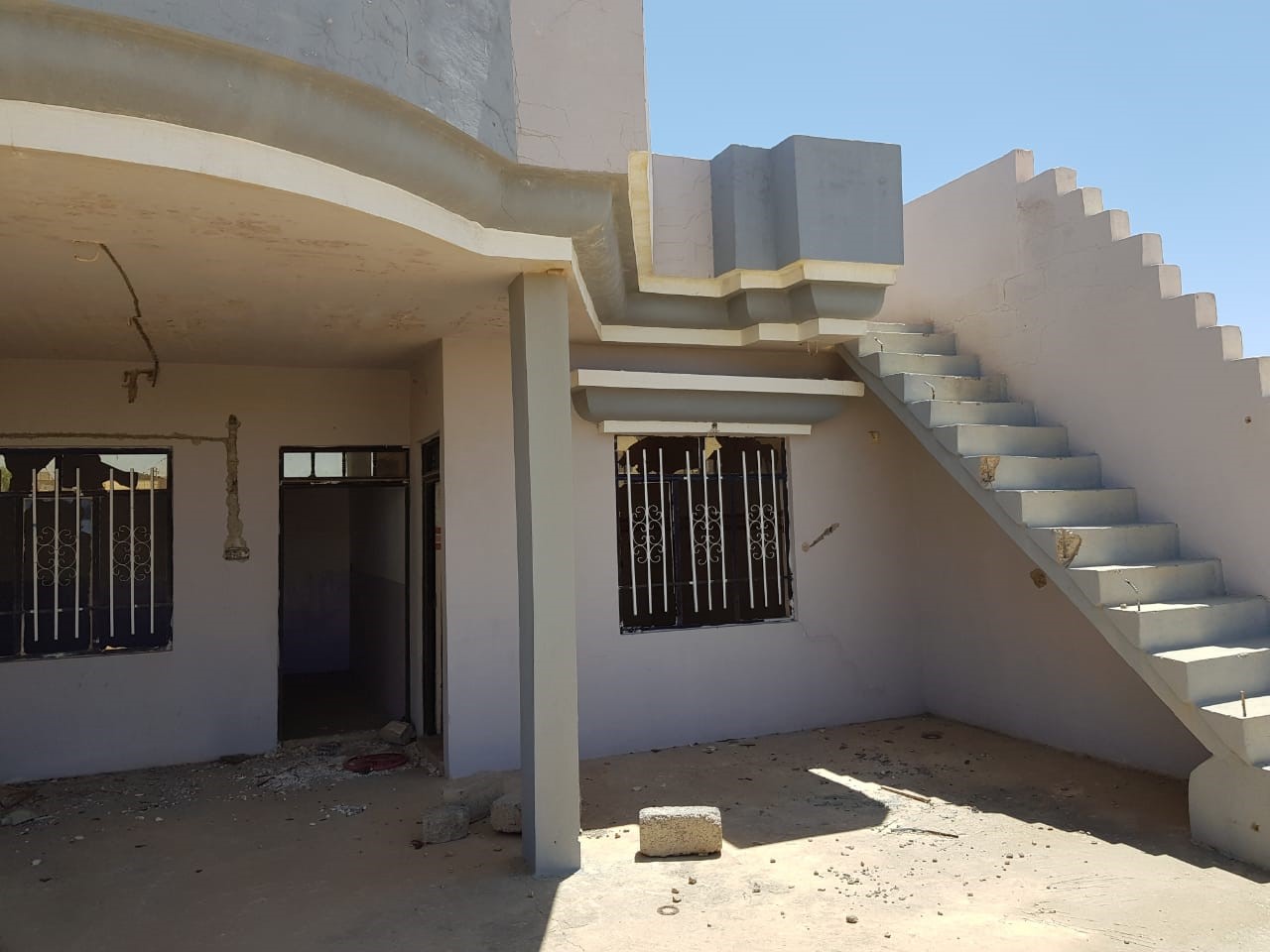 Building found for the gynaecological clinic
Our colleagues on site have already found a property for the gynaecological clinic project. Some renovation and furnishing work as well as the equipment with appropriate inventory is still needed before the planned work in the first gynaecological clinic in the region of Sinjar can start.

Support by Front Line Defenders
We are very pleased that Front Line Defenders has agreed to support our projects in Sinjar this year. Front Line Defenders was founded in Dublin in 2001 with the specific aim of protecting human rights defenders at risk (HRDs), people who work, non-violently, for any or all of the rights enshrined in the Universal Declaration of Human Rights (UDHR). Front Line Defenders addresses the protection needs identified by HRDs themselves.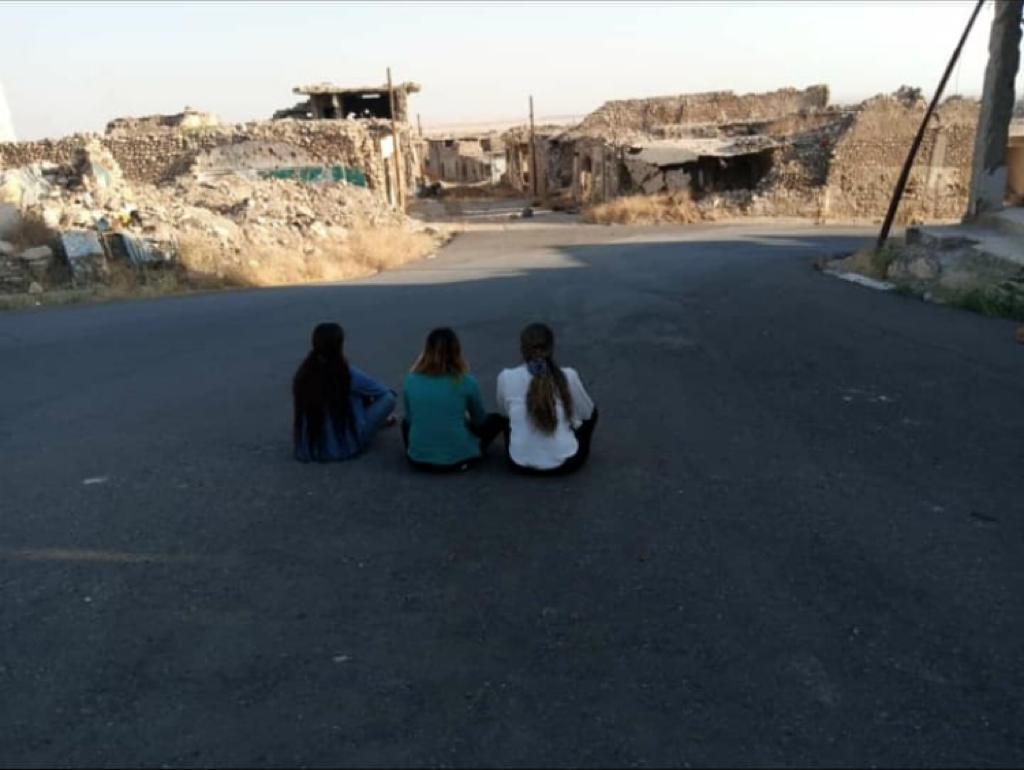 Exchange with women in Sinjar city
Together with our partner Ezidi Woman Support League we visited women in Sinjar city to offer support in getting back to Sinjar. Dozens of families have returned to Sinjar in recent weeks. In addition, destroyed districts of Sinjar City have been documented again.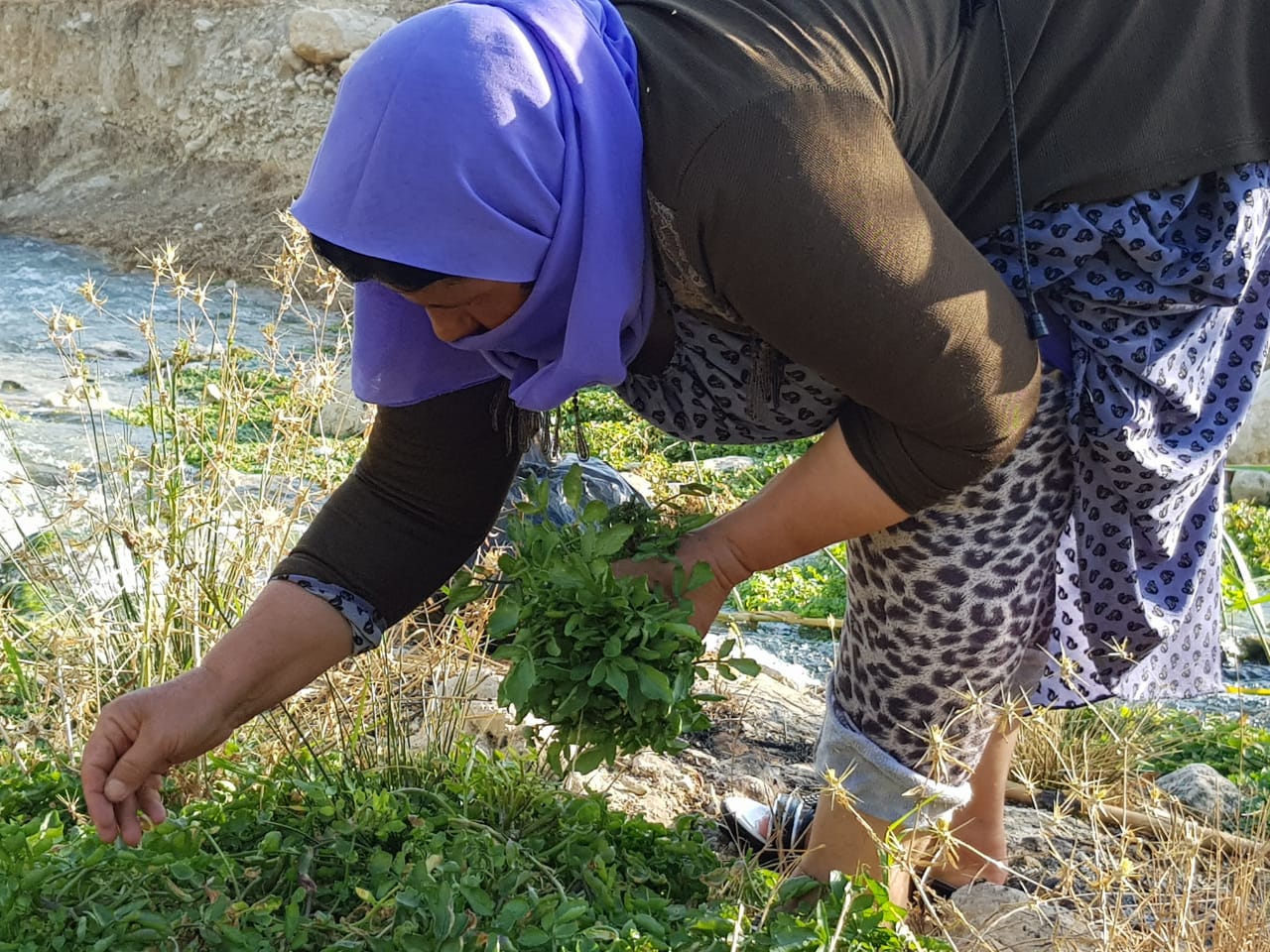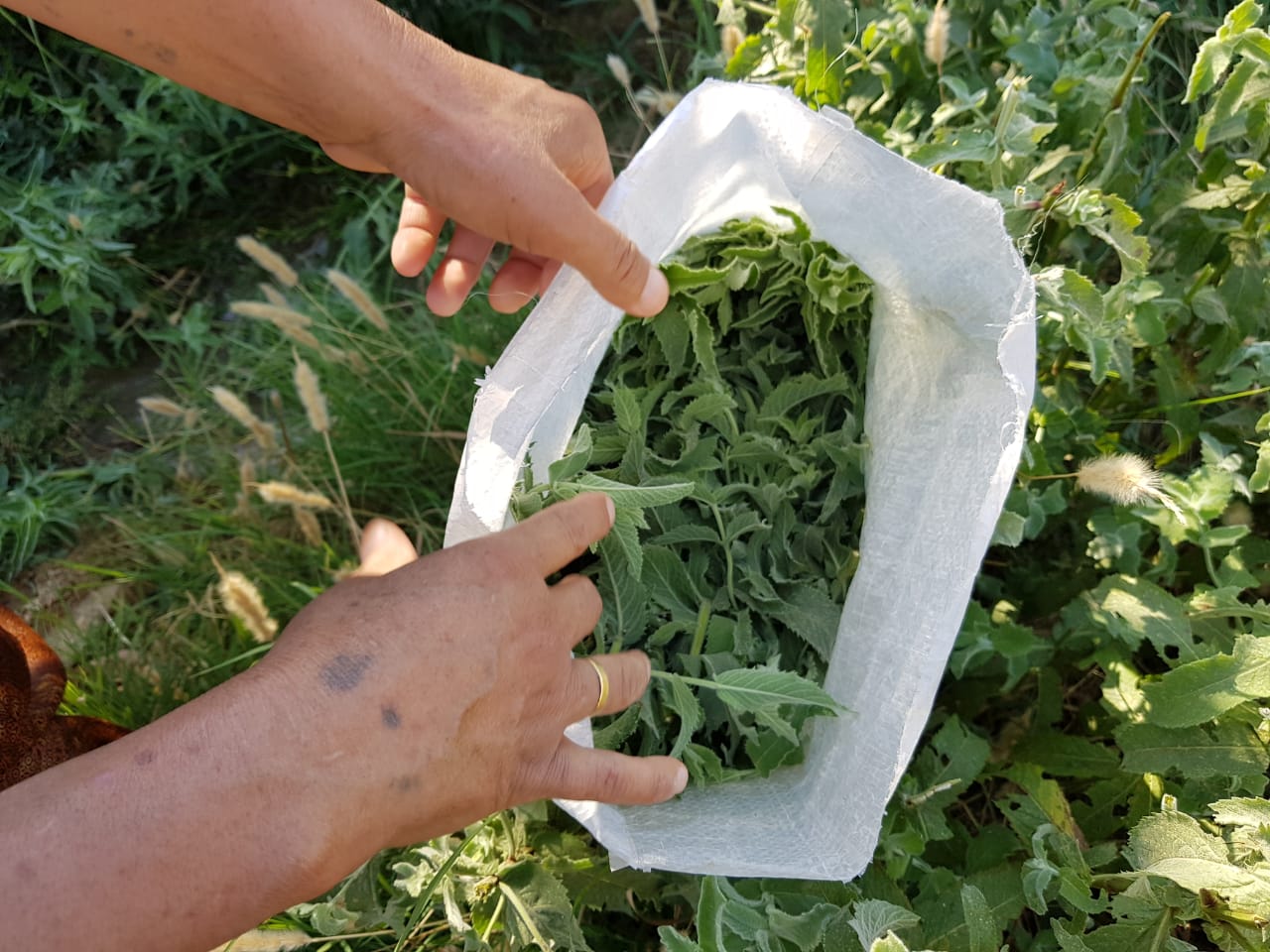 Women for Justice e.V. organized a group of 10 women in Sinjar to go on a trip into nature. This excursion was made as part of the medicinal herb garden project to develop a deeper feeling for nature again and to discover and collect different (medicinal) herbs.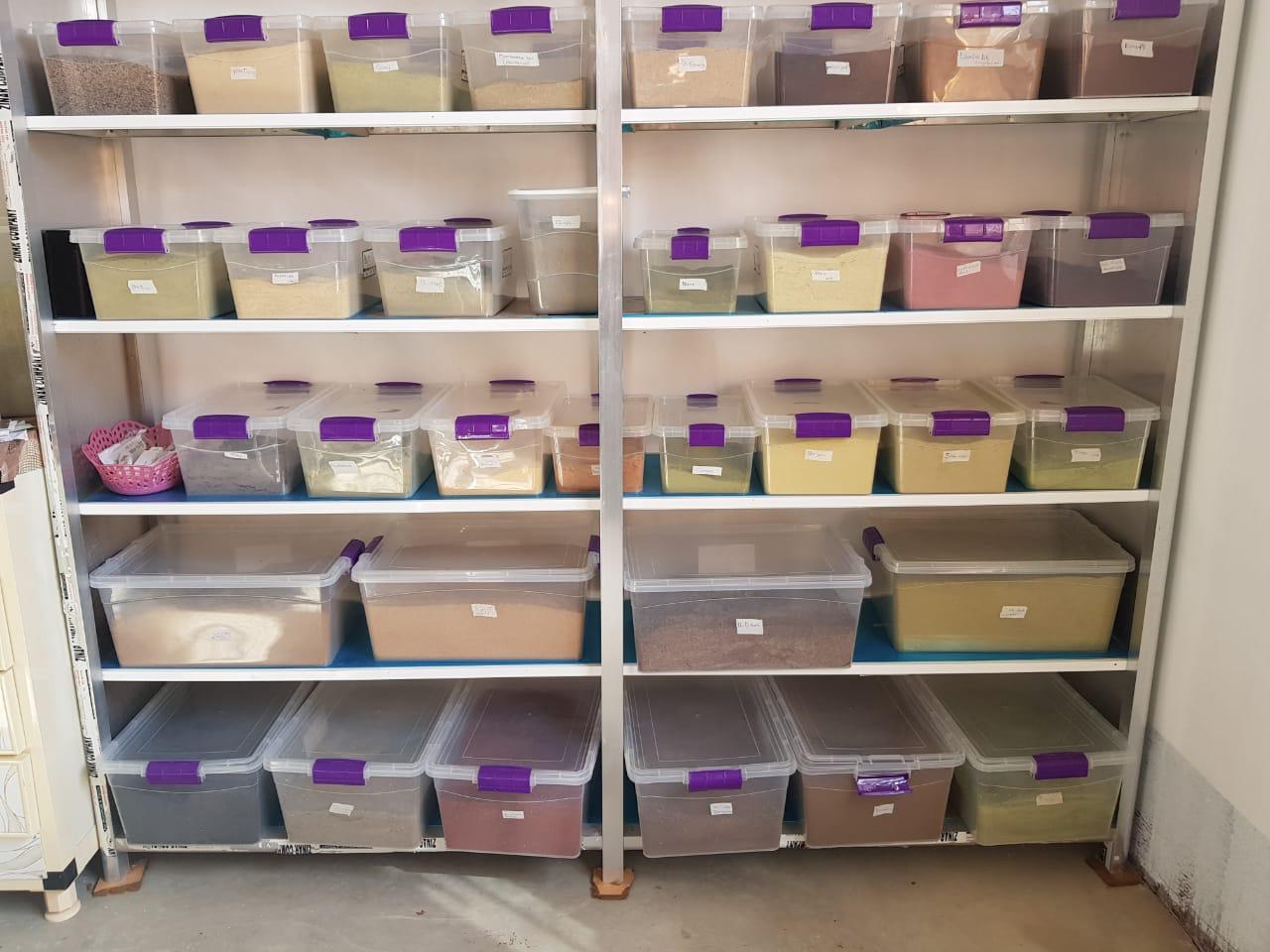 Excursion to the first natural herb station in Sinjar
Members of Women for Justice e.V. visited the first (private) natural herb station in Sinjar to get information. The association intends to set up a sustainable medicinal herb project for women, which should also include training and knowledge transfer.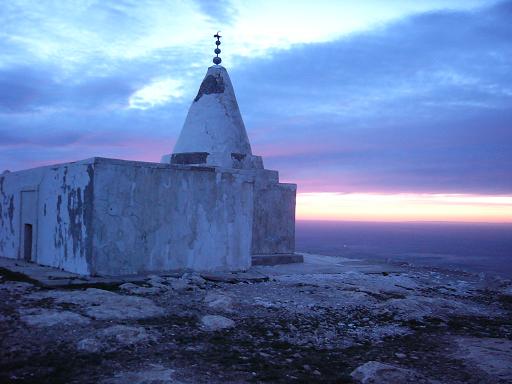 Research Project on destroyed temples in Sinjar
With emphasis on Hannover Women for Justice e.V. collects information via interviews and conversations on holy temples in Sinjar which have been destroyed by so called Islamic State since 2014. The aim is to preserve cultural knowledge and historical identity which strengthen refugees` integration in Germany. We belive that those who know where they are from and what their history is know also better how to live today and in the future. End of the year there will be a broschure. This project is funded by Integrationsfonds der Stadt Hannover.
(the temple at the picture is named Çilmêra and is one of the not destroyed)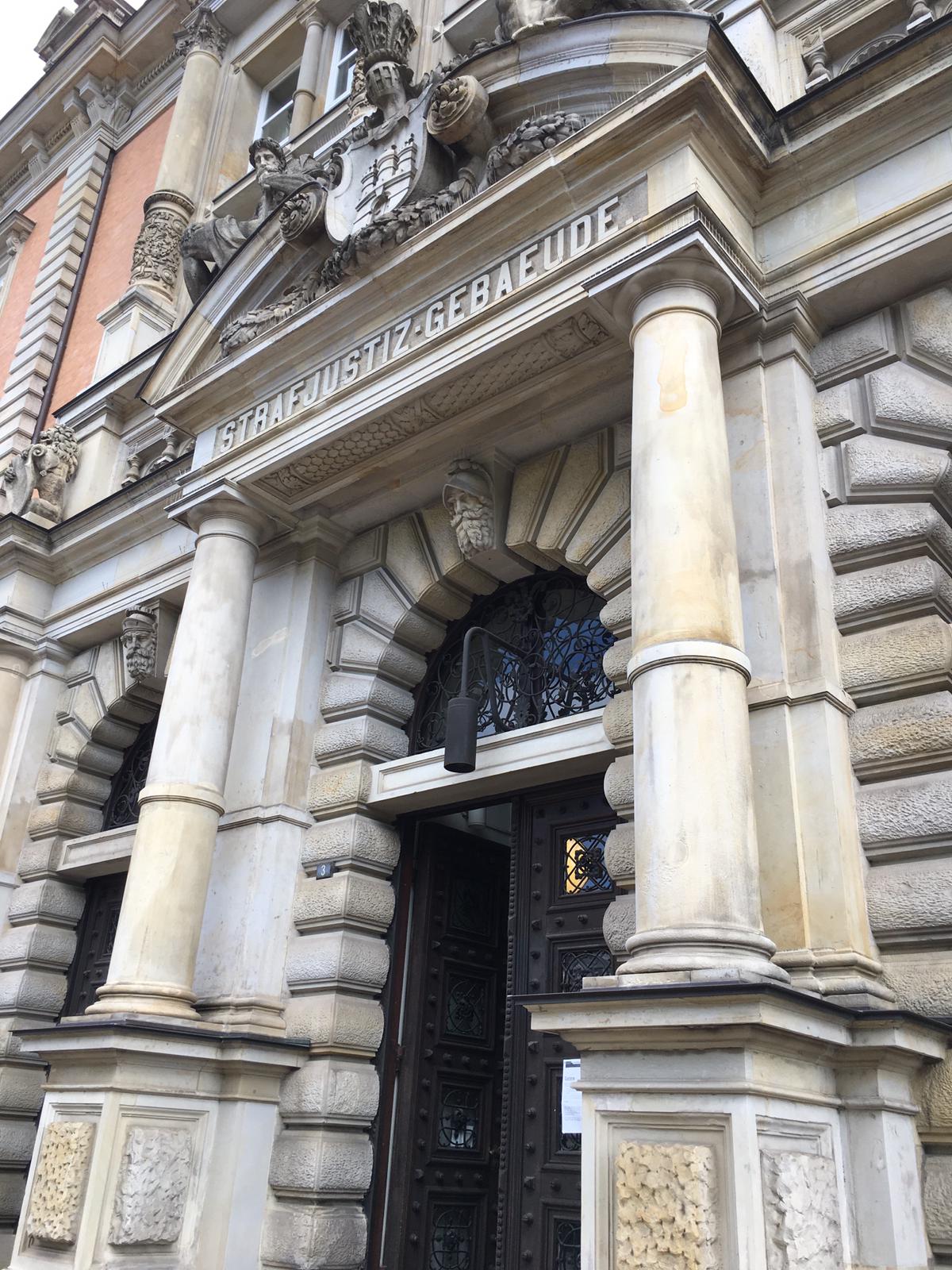 Observation of the criminal proceedings at the Hamburg Higher Regional Court against Omaima A.
Together with the Society of Yazidi Academics (Gesellschaft Ezidischer AkademikerInnen) and Cansu Özdemir (faction leader of DIE LINKE, Hamburgische Bürgerschaft), Women for Justice e.V. is observing the criminal proceedings at the Hamburg Higher Regional Court against Omaima A., who is alleged to have joined the so-called Islamic State in Syria and, among other things, kept a young yazidi girl as a slave.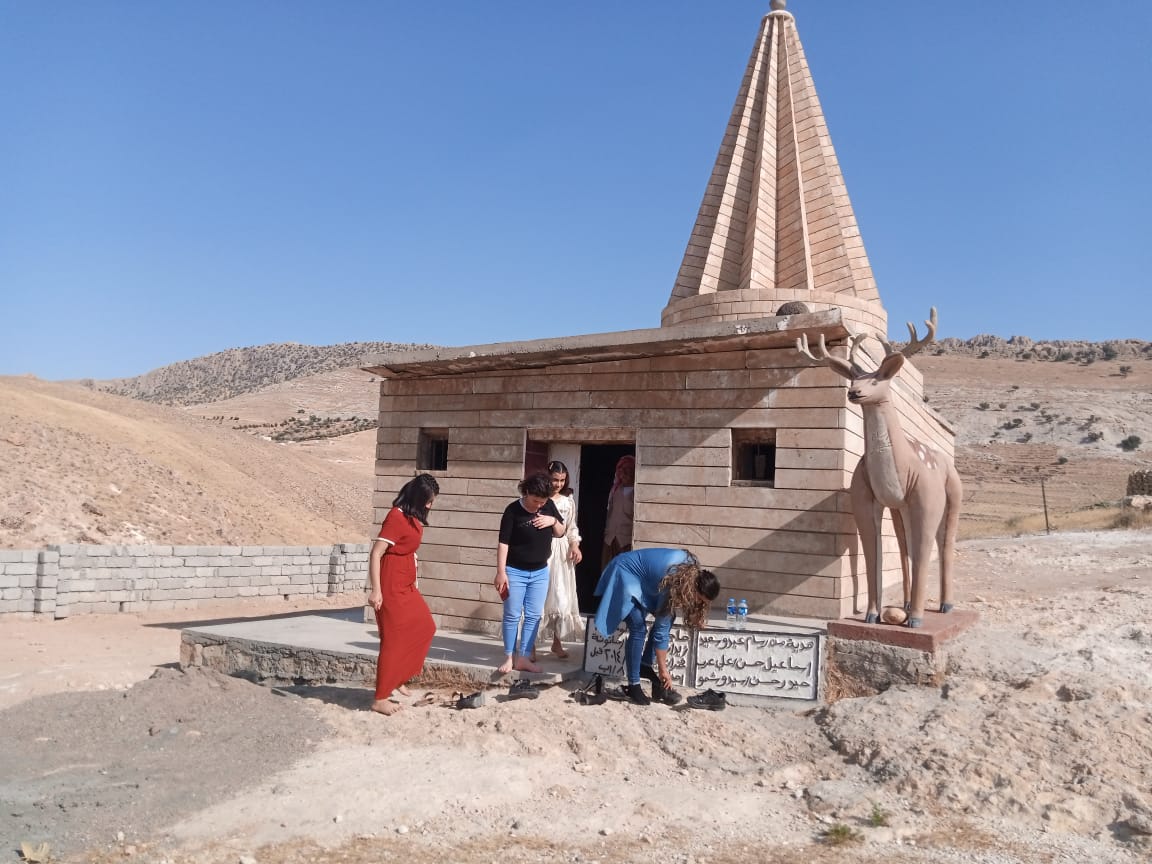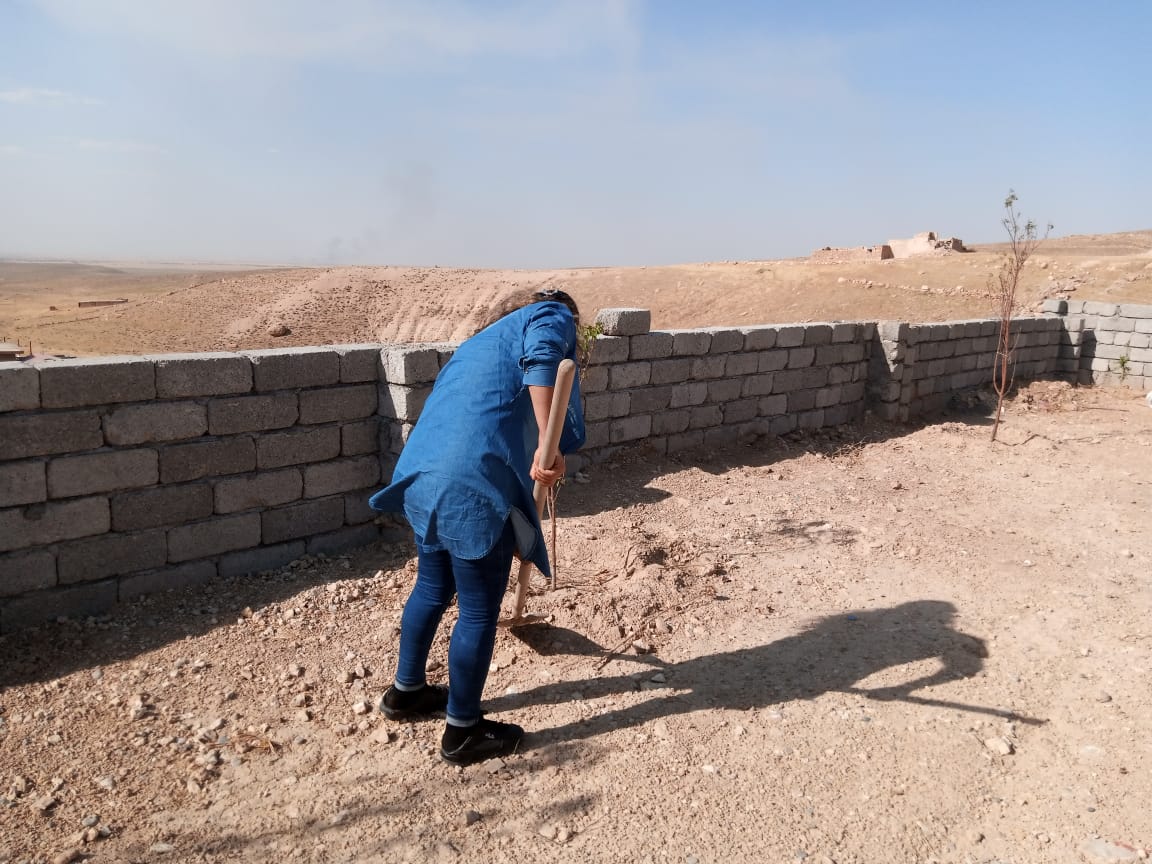 Visit of the women's temple Xatûna Fexra
Members of Women for Justice e.V. and other women visited the temple Xatûna Fexra in Shengal in preparation for a rehabilitation project. They were given expert advice on the spot on how and where exactly rehabilitation is needed, areas were measured and the site was explored.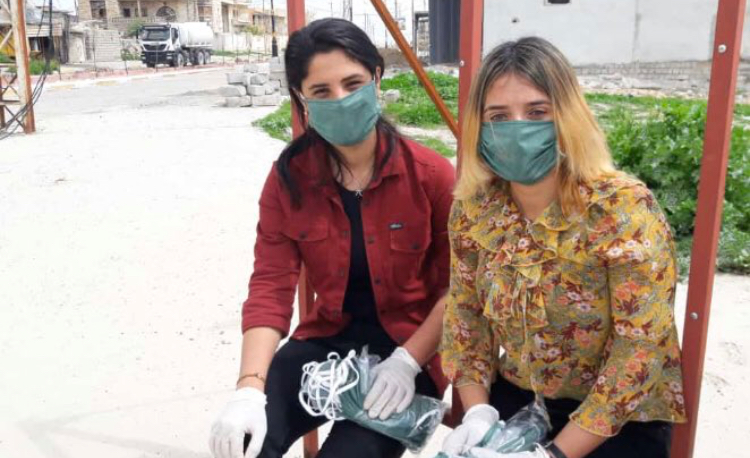 Face masks against Covid 19 in Sinjar
Women for Justice e.V. participated in the action of women in Sinjar in distributing face masks against the spread of Covid 19 to private persons, shops and workers. As the medical care in Sinjar is very poor, the spread of the Corona virus in Sinjar would have devastating consequences.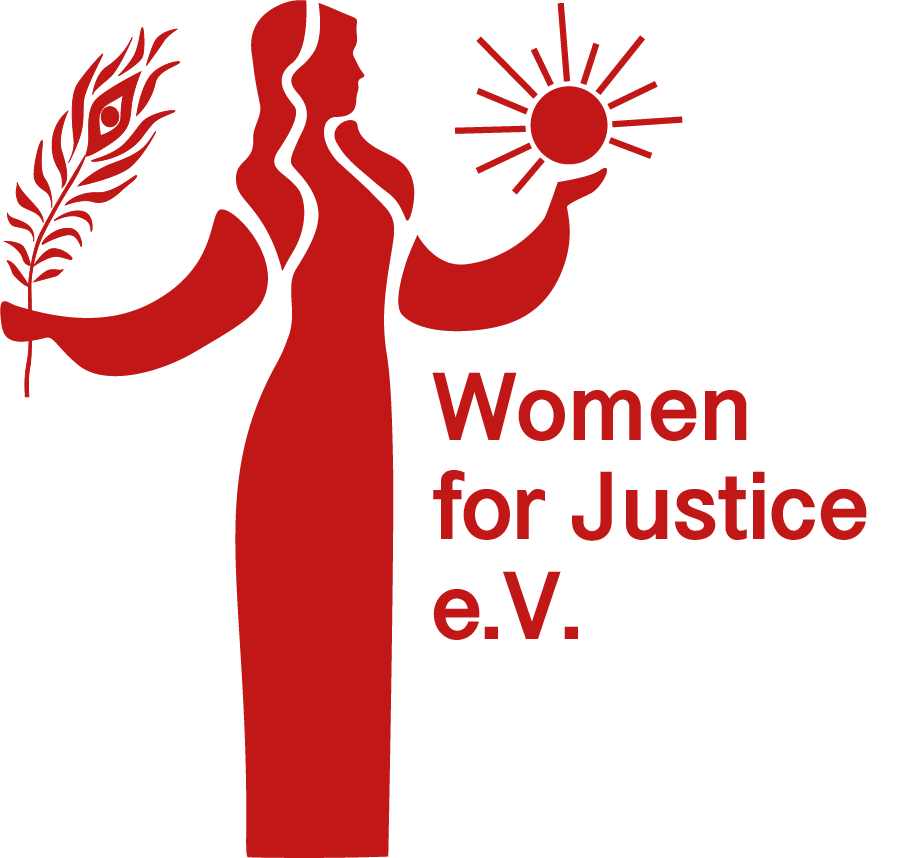 Women for Justice e.V. has decided on a new logo. For this purpose all members in Germany, Syria, Iraq and Turkey have been involved. The colours red and white are colours of Yazidis (Ezidis). Red symbolises life and white symbolises wisdom, peace and sincerity. The woman holds her arms in balance like Justizia and looks into the sun, which is also a sacred element of the Yazidi (Ezidi). The peacock symbolizes the archangel Tawsî Melek; hence the peacock feather.
Aid packages and visits in Sinjar for Yazidi New Year
On the occasion of the Yazidi (Ezidi) New Year "Carshemba Serê Nîsanê", Women for Justice e.V. participated in a relief action for needy families in Sinjar. Not only were aid packages organized, but also, due to corona conditions, the families were visited by far. We continue to exchange information with the families.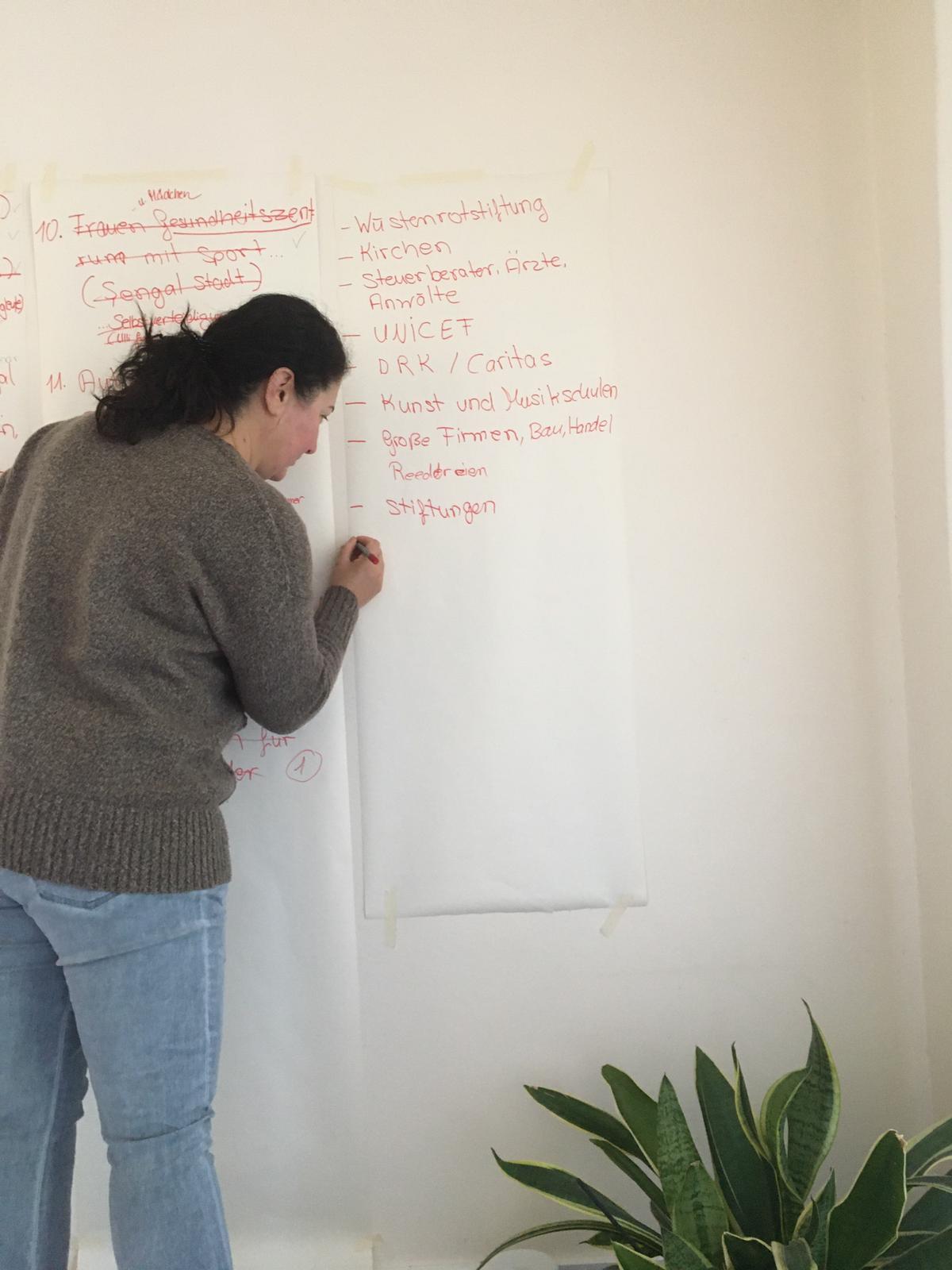 Workshop on the topic of projects
Members of Women for Justice e.V. organized a two-day workshop with female colleagues from Germany and Iraq on the topic of projects. Topics such as project ideas, sketches, applications and financing were discussed and a roadmap was developed, with a special focus on the social projects in Sinjar. Our colleagues and our team in Shingal play a central role in this.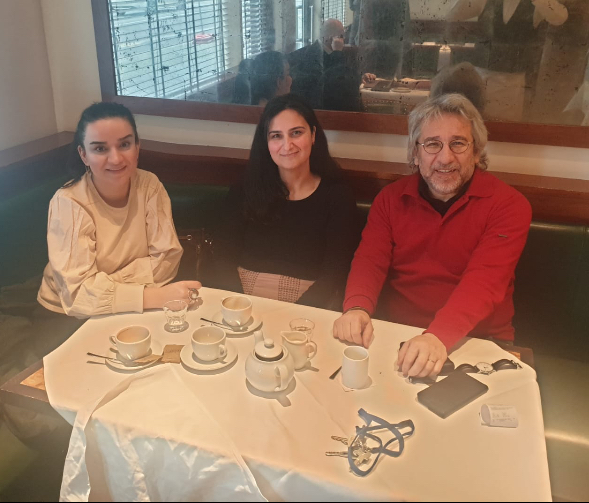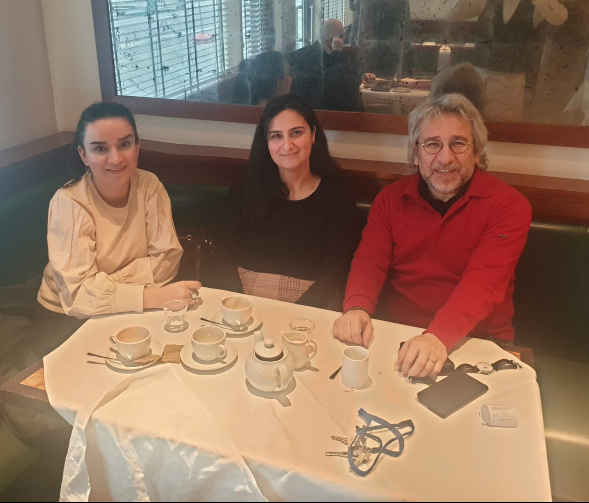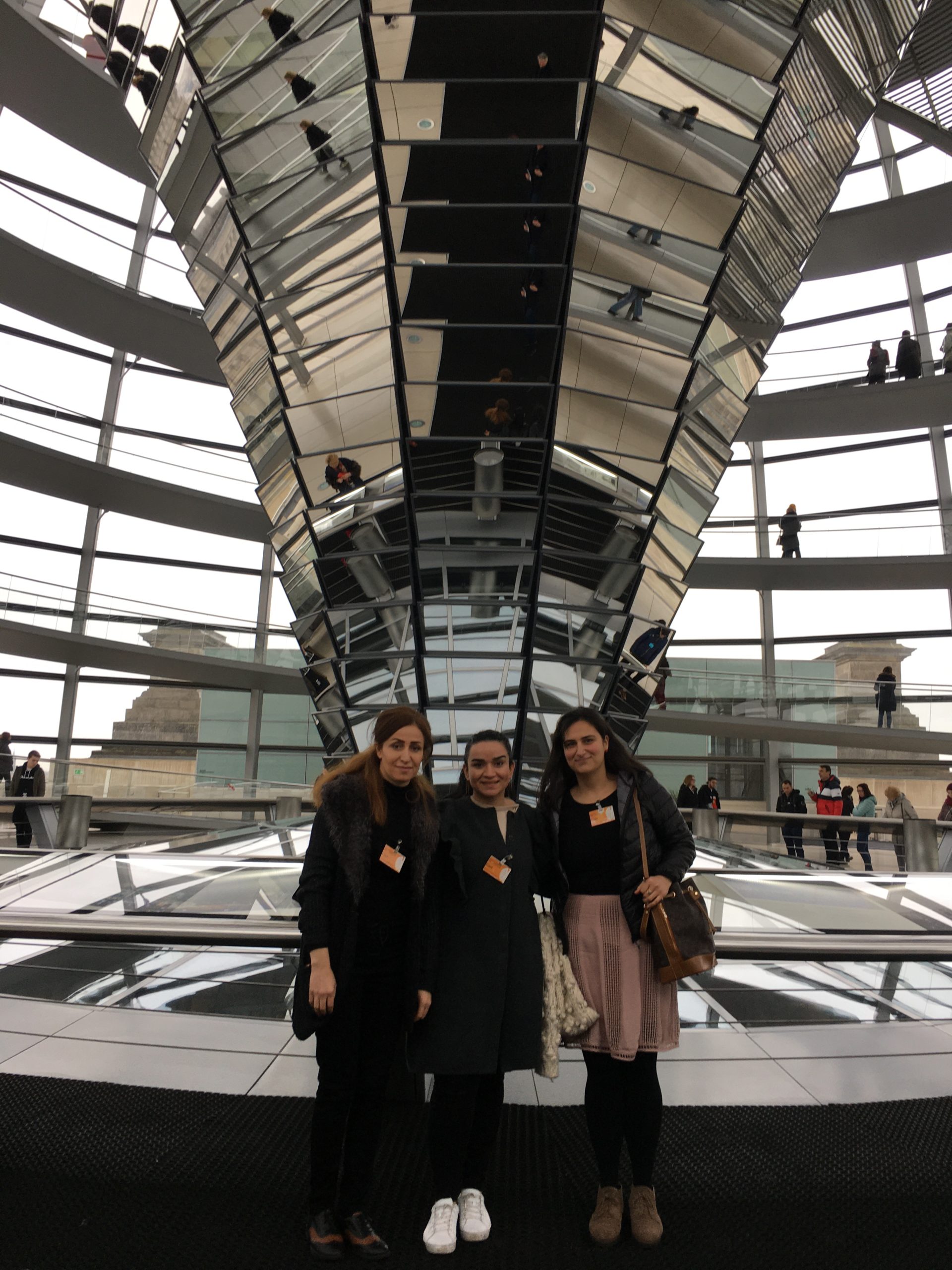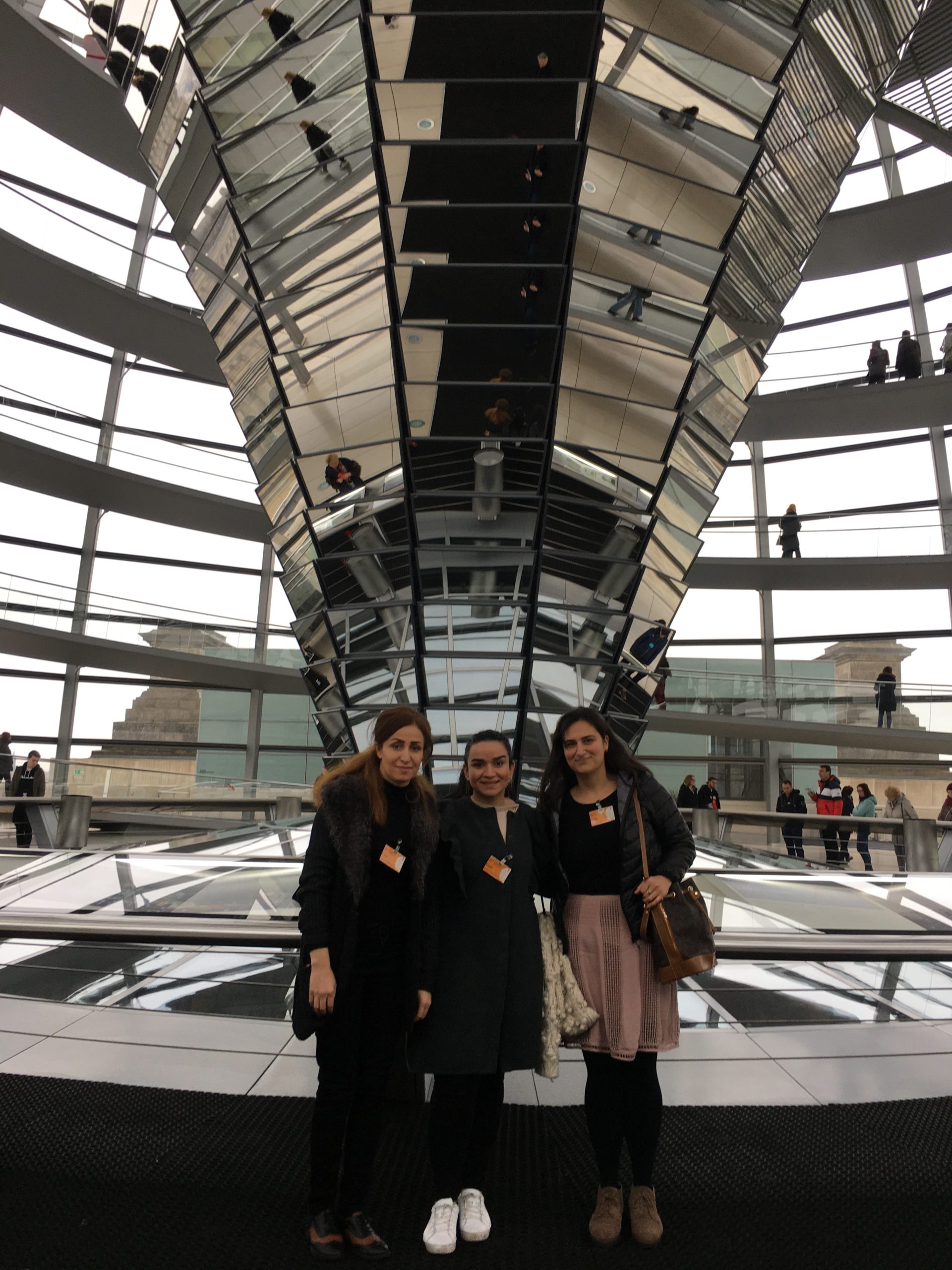 Exchange with journalist Can Dündar and meeting Yazidi survivors
Media is an important component of social incidents. In order to discuss the role of media and journalists in conflicts and Genocides, Women for Justice e.V. met Can Dündar to exchange, learn from the experience of an expert and an advocate for democratic change, not only in Turkey. Afterwards we visited Yazidi  survivors who recently arrived in Brandenburg.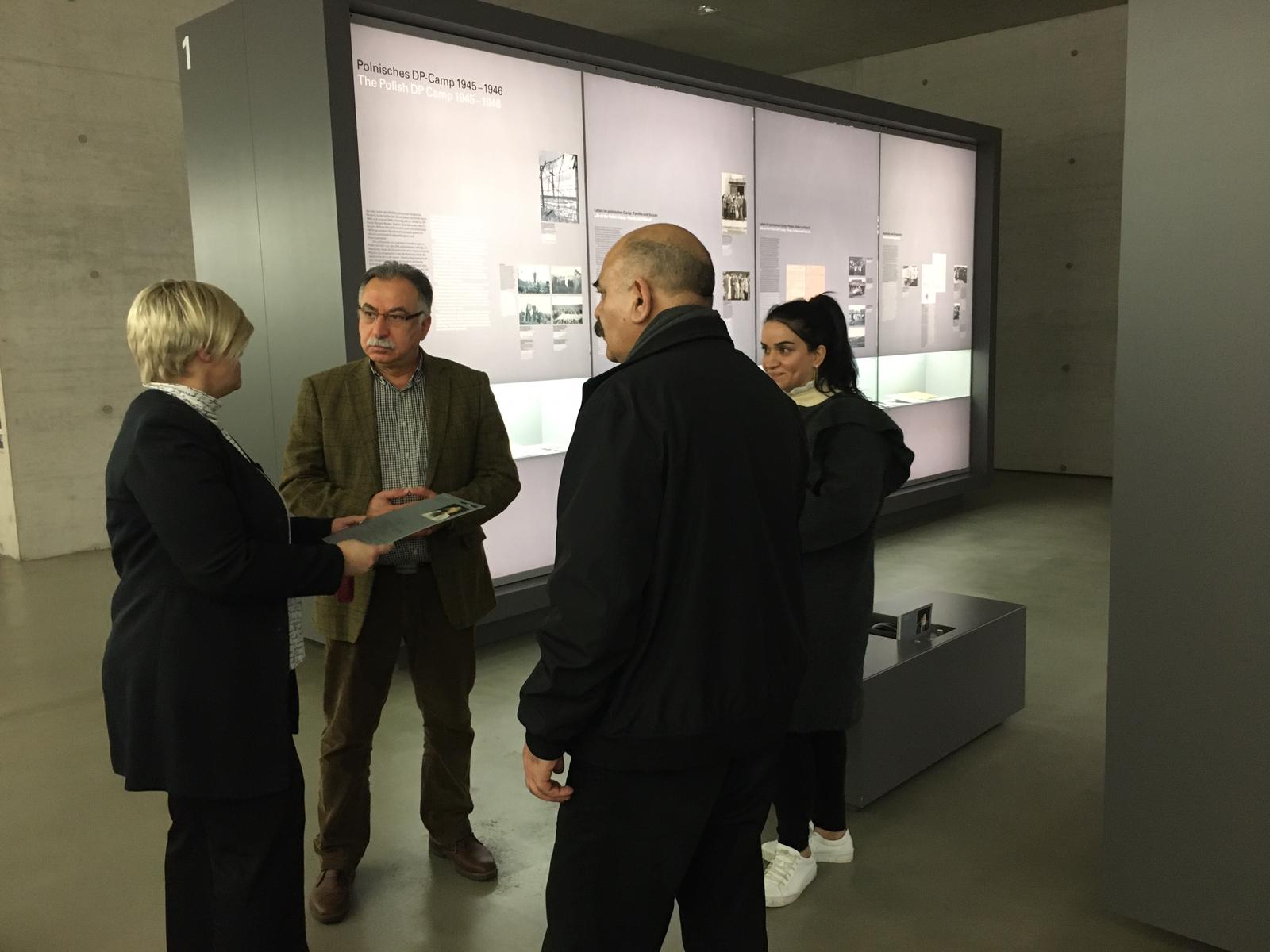 Meeting with Verein Kurdischer LehrerInnen in Europa e.V.
Regarding the documentation of our work, Women for Justice e.V. met up with representatives of the Verein Kurdischer LehrerInnen in Europa e.V. (Association of Kurdish Teachers in Europe -Yekîtiya Mamosteyên Kurd li Ewrûpa) at the Bergen-Belsen Memorial. The dialogue included opportunities and challenges of documentation and how sustainable structures can be built. In the permanent exhibition of the Bergen-Belsen Memorial, the biographies of casualities and survivors, and the mass killing in the former concentrarion camp Bergen-Belsen are being documented in an impressive manner.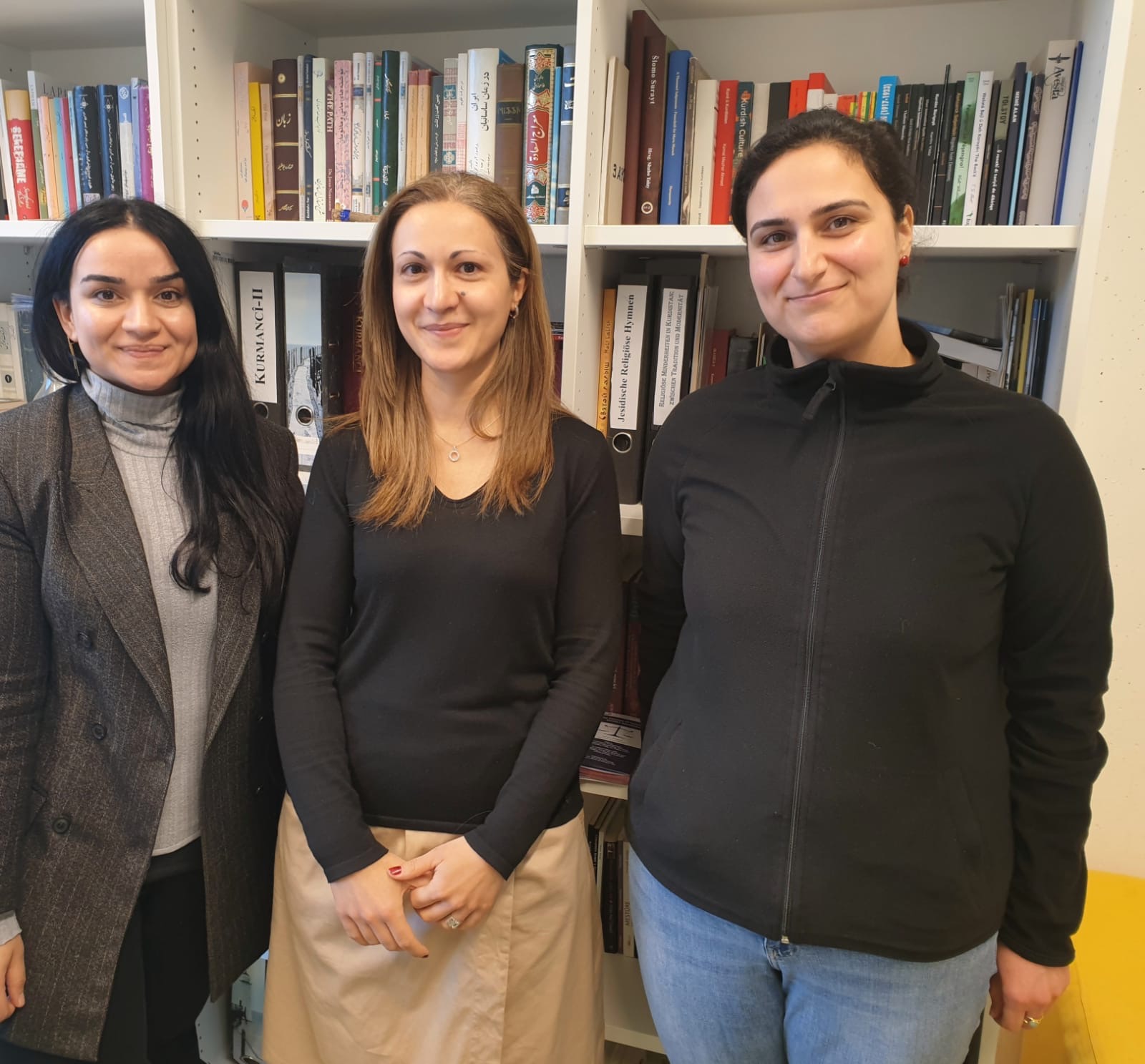 Meetings with ECCHR and PD Dr. Khanna Usoyan
Women for Justice e.V. met up with several members of the European Center for Constitutional and Human Rights (ECCHR) in Berlin and with PD Dr. Khanna Usoyan. Mrs Usoyan is a researcher for Kurdish Studies, currently working for the Institute for Iranian Studies (Department of History and Cultural Studies) at the Freie Universität Berlin. The discussions and exchange of information of both meetings were aimed at informing about the activities of Women for Justice e.V. and possible cooperations.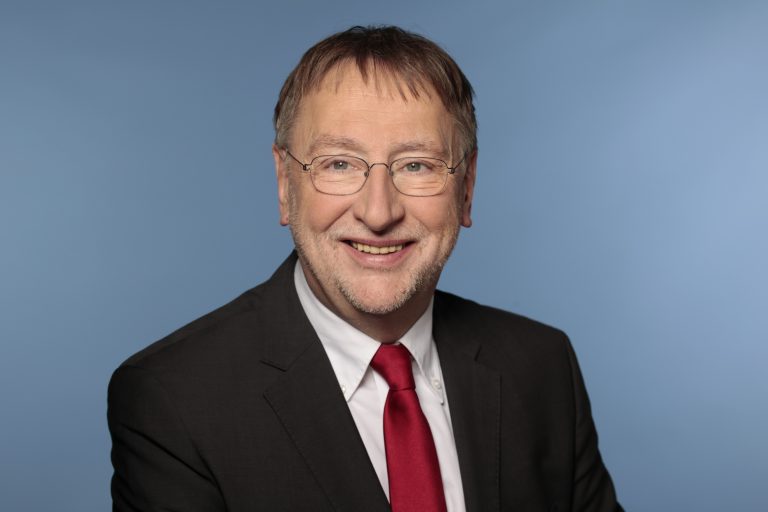 Dialogue with Bernd Lange
Bernd Lange is a Member of the European Parliament (MEP) and a Social Democrat. Women for Justice e.V.'s work and activities, possible links and relations at European level were key topics of our dialogue. One major aspect was the (re-)integration of Yazidi women who escaped from their captivity at the so-called Islamic State and now live in Europe.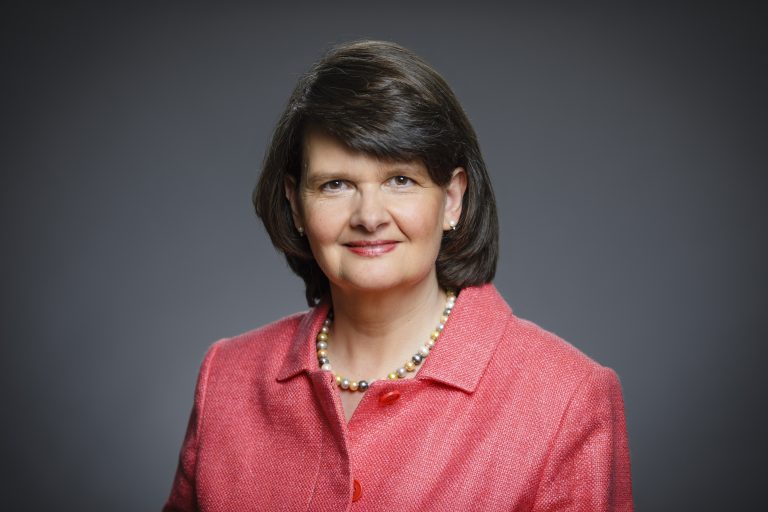 Dialogue with Dr Maria Flachsbarth
Dr Maria Flachsbarth is the Parliamentary State Secretary to the Federal Minister for Economic Cooperation and Development. Our talk served the purpose of exchanging current questions and goals, regarding the work and projects of Women for Justice e.V., particularly the reconstruction projects in Sinjar, Iraq. More talks and dialogues will be following.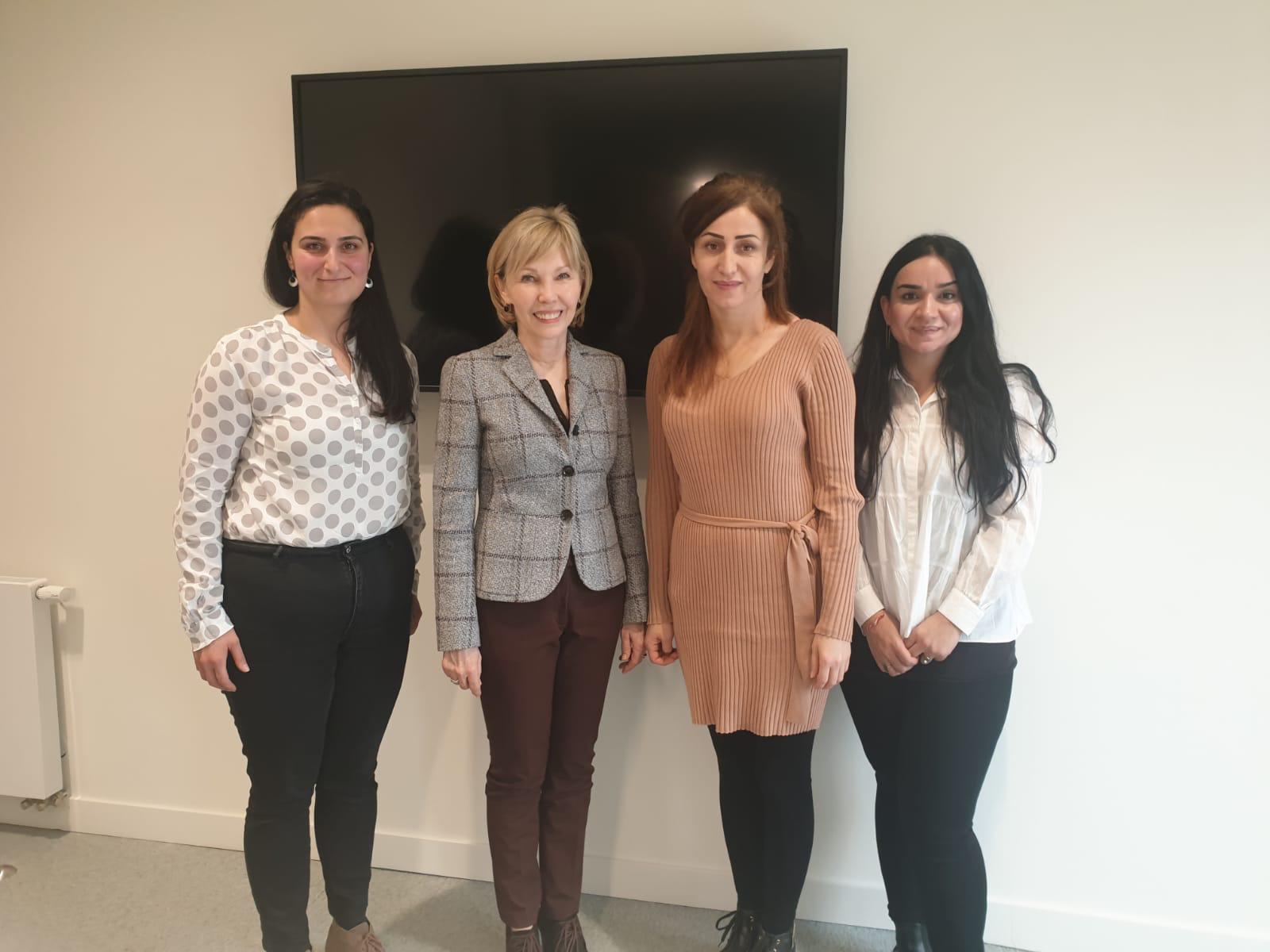 Meeting with Doris Schröder-Köpf at the Parliament of Lower Saxony
Doris Schröder-Köpf is both Commissioner for Migration and Participation – and member of the Landtag of Lower Saxony (SPD). Information on Women for Justice e.V.'s activities and potential networking in Hanover were the main objects of our meeting. The discussion also covered new project ideas.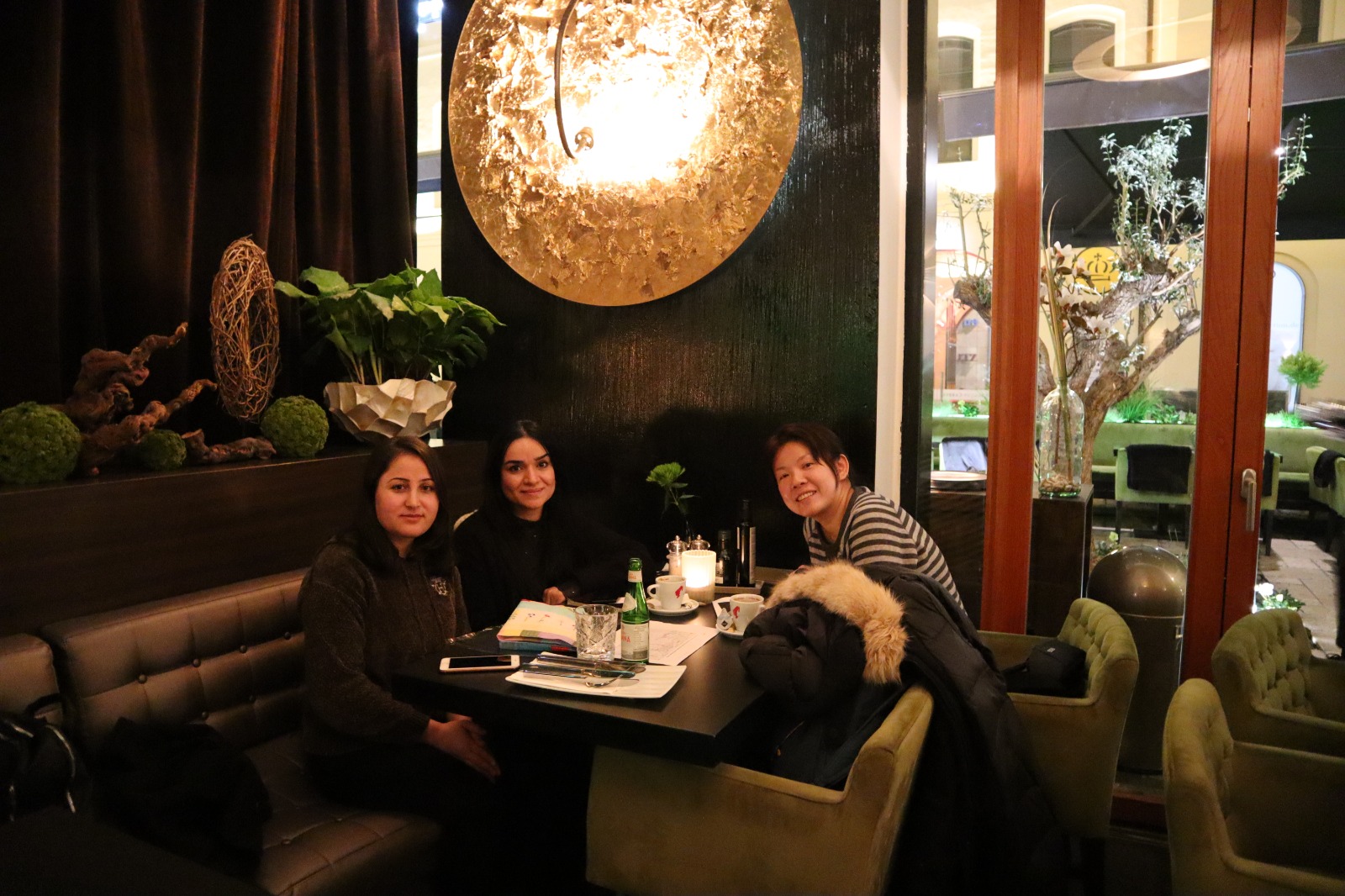 Meeting with Sangmee An - TV producer and director from South Korea in Hanover, Germany
Sangmee An is going to be filming a documentary on South Korean and Yazidi survivors from summer 2020 onwards. She had a few questions about Yazidi survivors, with a major interest in violence against women in time of war and terror.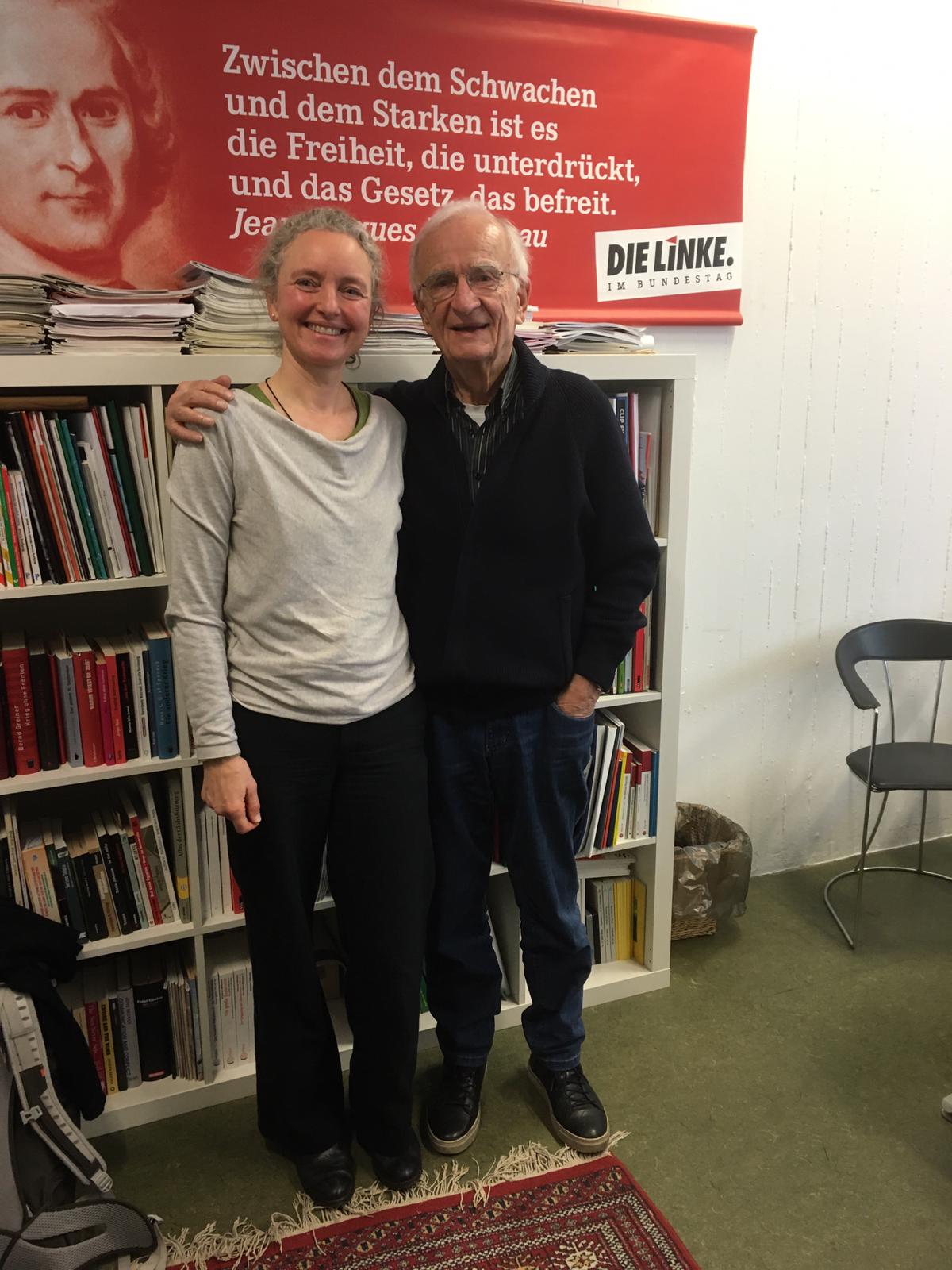 Meeting with Norman Paech in Hamburg, Germany
Norman Paech is a retired university lecturer and professor for constitutional and international law. He is a member of the "Vereinigung demokratischer Juristinnen und Juristen" (VDJ) – an association for democratic laywers. Also, he's part of the scientific advisory board of the "International Association of Lawyers against Nuclear Armement (IALANA), the "International Physicians for the Prevention of Nuclear War" (IPPNW), a member of Attac and in the "Bündnis für Gerechtigkeit zwischen  Israelis und Palästiensern e.V." – a coalition for justice between Israelis and Palestinians. Between 2005 – 2009 he was part of the Deutscher Bundestag.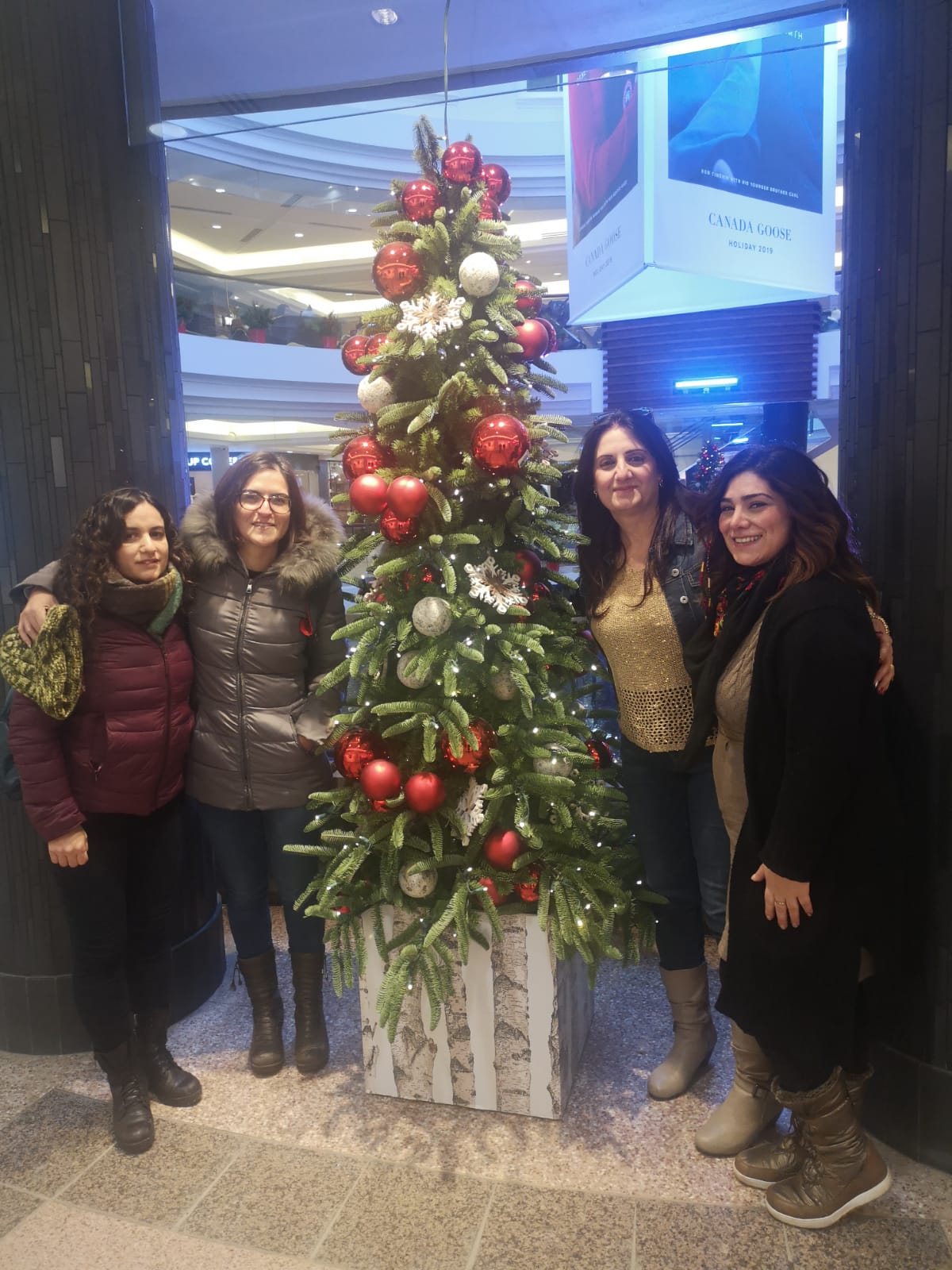 December 2019 – January 2020
2 weeks stay in Calgary, Canada
This two week stay in Calgary served several purposes, inter alia, further reaearch on the Yazidi genocide and getting acquainted with Yazidis living there. The dialogue and exchange with them is of huge importance to us and our work.
We understand meetings with female survivors as the basis of all our work. We have been meeting female survivors from Sinjar (Şengal) both as inviduals and in groups. Besides social care and legal advice, we try to find out methods to enable Yazidi survivors to make their own decisions in life here in Germany.