New video for the campaign "1 tree 4 Sinjar" published
A new short video about our campaign "1 tree 4 Sinjar" with impressions of the plantings and the importance of the project for the Yazidis (Ezidis) in Sinjar.
1 tree 4 Sinjar = 20$/€
Intended use: 1tree4Sinjar + name for dedication
IBAN: DE71 2505 0180 0910 4550 82
BIC: SPKHDE2HXXX
Music from www.allesgemafrei.de
Our official organization-trailer as Women for Justice e. V.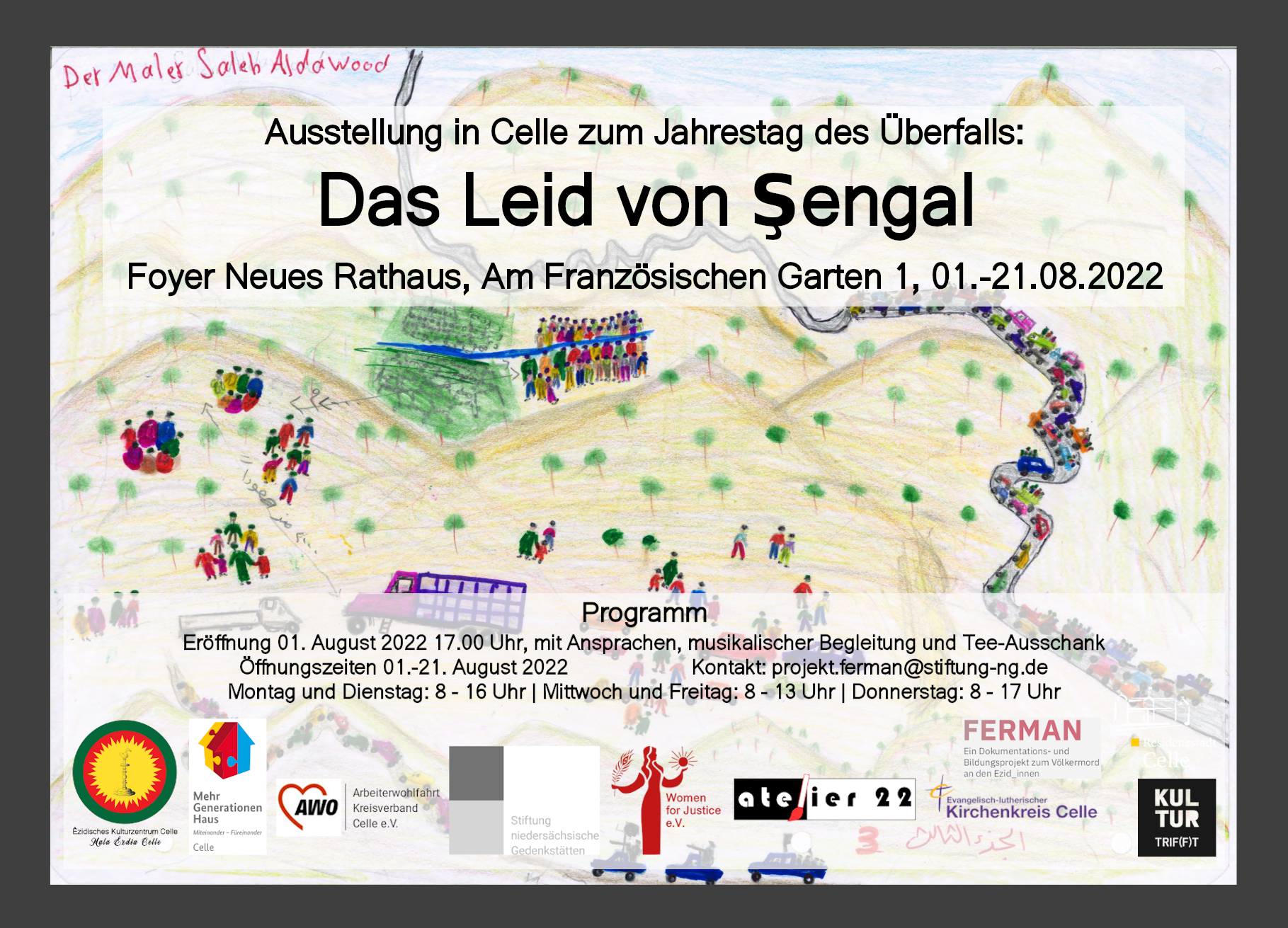 Exhibition  "Das Leid von Şengal" ("The Suffering of Şengal") in Celle
Sinjar (Şengal) is the capital of a district of the same name in Iraq and also the main settlement area of the Yazidis (Ezidis) the province of Nineveh. On the night of August 3, 2014, terrorists of the "Islamic State" attacked the town, killing thousands of Yazidis (Ezidis) and forcing hundreds of thousands to flee.
The artist Saleh Aldawood was among them and documented his experiences with colored pencils. He lives in Hamburg and is now showing his drawings to a wider public.
On the occasion of the eighth anniversary of the assault on Sinjar, the cooperation project "Ferman heißt Völkermord" ("Ferman means genocide") of the association Women for Justice e. V. and the Stiftung niedersächsische Gedenkstätten (Foundation of Lower Saxony Memorials) invites to the exhibition in Celle in the foyer of the new town hall. Susanne McDowell, the head of the social department of the city of Celle, is patroness of the three-week presentation, which takes place with broad support of Celle initiatives and associations. Remembrance and commemoration are important to all of them, which is impressively demonstrated by this diverse alliance from the cultural and social sectors.
Program
Opening 01 August 2022 17.00 h, with speeches, musical accompaniment and tea serving
Opening hours 01-21 August 2022
Monday and Tuesday: 8 am – 4 pm | Wednesday and Friday: 8 am – 1 pm | Thursday: 8 am – 5 pm
Contact: projekt.ferman@stiftung-ng.de
  "Those, who were seen as the weakest – turned out to be the strongest."
Dr. Leyla Ferman (Representative of Women for Justice e. V.)