Our official organization-trailer as Women for Justice e. V.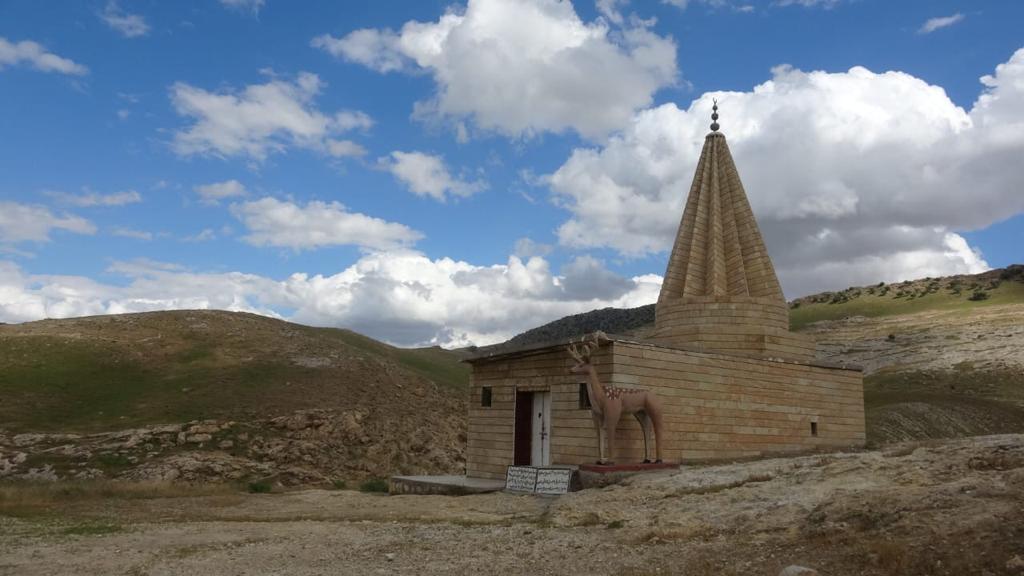 Womens' temple Xatûna Fexra in Sinjar
We are pleased to inform you that in mid-February, with some delay due to the frosts, the planting of the oaks in Sinjar could begin. This will be followed by the fruit trees.
So far more than 1100 trees have been donated – what a great success! We thank all donors from the bottom of our hearts.
Due to this response, we have decided to extend the campaign until March.
1 tree 4 Sinjar = 20$
Intended use: 1tree4Sinjar
IBAN: DE18 2505 0180 0910 4550 66
BIC: SPKHDE2HXXX
"Those who were supposed to become the weakest – became the strongest."
Dr. Leyla Ferman (Chairwoman of Women for Justice e. V.)
Touring-Exhibition
Über Leben
(About Life/ "Surviving")
Yazidi (Ezidi) women who escaped from captivity from so-called IS were brave to talk about the brutal violence they experienced. Women for Justice e. V. did 12 interviews between December 2017 and March 2018 with Yazidi (Ezidi) women in Qamishli (Rojava), Sinjar (Şengal/Northern Iraq) and in Baden-Württemberg Region (Germany). By telling their stories and allowing us to take them for an exhibition, these women not only demand justice before courts but also want the world to understand what happened. They want to avoid that anyone can deny the atrocities. Also, they want to inform that the Genocide is still ongoing, that family members are still in captivity. These are stories of harm and strength. They hope for rehabilitation, justice, human rights, international support and peace for all Yazidis (Ezidis) and other people in the world struggling to survive. Yazidi (Ezidi) women ask for support in their struggle to become strong to demand and receive justice.
This exhibition has been shown in the following places:
Frauenmuseum (Women's Museum), Bonn, November-December 2018
Neues Rathaus (New Town Hall Celle), Celle, January-February 2019
Initiative "Nachbarschaftshilfe – Flüchtlinge helfen" Rockenhausen, March 2019
1st Yazidi Cultural Festival ,Bielefeld, June 2019
Museum des Kapitalismus (Museum of Capitalism), Yazidi women & women from Asia against war crimes, Berlin, August 2019
Stadtbücherei,Quickborn Municipality, September-October 2019
Frauenzentrum Voerde e. V., Voerde, November 2019
Deutscher Frauenring LV BW, Freiburg, November 2019
Rathaus Kaiserslautern, Kaiserslautern, November-December 2019
Shop window Ludwigsstraße Germersheim, January-February 2021 (Deutscher Frauenring Germersheim, Zentrumsmanagement Germersheim)
The exhibition has already been translated into English. We are looking for an interested partner to show the exhibition in English-speaking countries.