"Those who were supposed to become the weakest – became the strongest."
Dr. Leyla Ferman (Chairwoman of Women for Justice e.V.)
Accountability Unit, together with Garden Court North Chambers and the University of Manchester, is pleased to warmly invite you to OUT-LINES in international law.
The 'Crime of Crimes': Personal and Legal Reflections on Genocide
4 November 2020 at 17:45 BST (18:45 MEZ)
Zoom Webinar (1h30 mins) + Q & A (45 mins)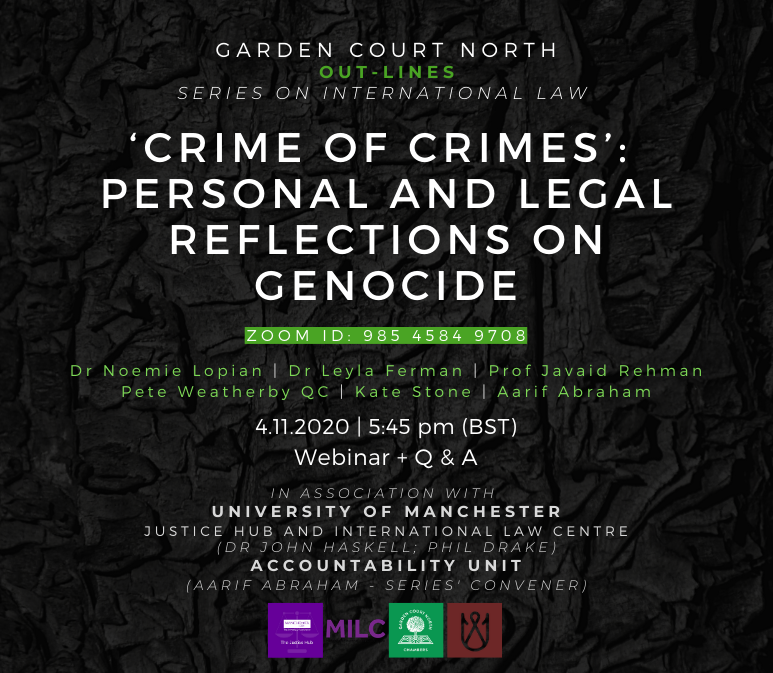 This year marks the 75th anniversary of the liberation of Auschwitz and the 25th anniversary commemorating the genocide of Bosnian Muslims in Srebrenica, Bosnia-Herzegovina. Genocide in Srebrenica was the worst atrocity on European soil since the Holocaust despite States' commitments to 'Never Again'. In the first of a series on international law we explore what genocide means.
Pete Weatherby QC will Chair the event and help frame the discussion. Prof Javaid Rehman, Member of the Coordination Committee of the Special Procedures United Nations Human Rights Office, will deliver the keynote speech on why this discussion today is as relevant today as it was after the horrors of WWII. Dr Noemie Lopian and Dr Leyla Ferman will relate their own personal legacies of living with the consequences of genocide: one historical relating to the Holocaust; the other contemporary relating to crimes against the Yazidis of Iraq and Syria. Aarif Abraham and Kate Stone will talk about the law relating to genocide, the difficulty of its application and lessons for the future. Our host will be Dr John Haskell. Further details about the event including the speaker's bios can be found on AU's website.
The webinar is organised by Aarif Abraham, Convener, International Law at Garden Court North Chambers & Acting Director at Accountability Unit; Dr. John D. Haskell, Co-Director at Manchester International Law Centre; and Philip Drake, Director of the University of Manchester's Justice Hub. 
Exhibition "Survival-AboutLife"
at the Cultural Weeks Middle East in Hamburg
November 11-30, 2020
Altona Museum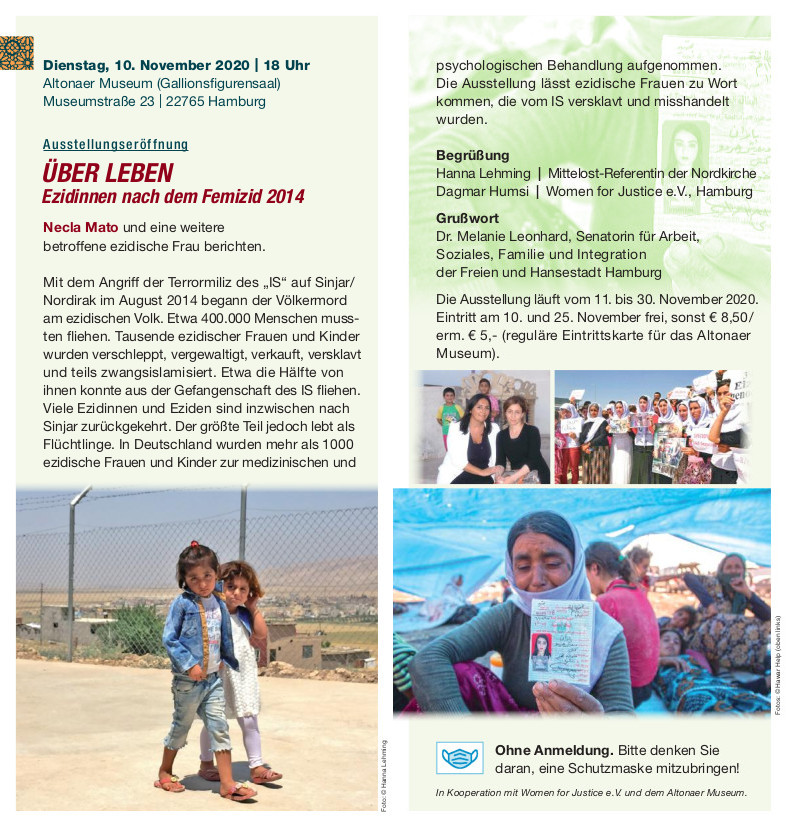 As part of the Middle East Culture Weeks in Hamburg, the touring exhibition "ÜberLeben" will be shown from November 11 to 30, 2020 in the Altonaer Museum (Museumsstr. 23, 22765 Hamburg), opening on November 10, 2020 at 6 p.m. with Hanna Lehming (Middle East speaker of the North Church) and Dagmar Humsi (board member Women for Justice e.V.)
Touring-Exhibition
Über Leben
(About Life/ "Surviving")
Yazidi women who escaped from captivity from IS were brave to talk about the brutal violence they experienced. Women for Justice e.V. did 12 interviews between December 2017 and March 2018 with Yazidi women in Qamishli (Rojava), Sinjar (Şengal/Northern Iraq) and in Baden-Württemberg Region (Germany). By telling their stories and allowing us to take them for an exhibition, these women not only demand justice before courts but also want the world to understand what happened. They want to avoid that anyone can deny the atrocities. Also, they want to inform that the Genocide is still ongoing, that family members are still in captivity. These are stories of harm and strength. They hope for rehabilitation, justice, human rights, international support and peace for all Yazidis and other people in the world struggling to survive. Yazidi women ask for support in their struggle to become strong to demand and receive justice.
This exhibition has been shown in the following places:
Frauenmuseum (Women's Museum), Bonn, November-December 2018
Neues Rathaus (New Town Hall Celle), Celle, January-February 2019
Initiative "Nachbarschaftshilfe – Flüchtlinge helfen" Rockenhausen, March 2019
1st Yazidi Cultural Festival ,Bielefeld, June 2019
Museum des Kapitalismus (Museum of Capitalism), Yazidi women & women from Asia against war crimes, Berlin, August 2019
Stadtbücherei,Quickborn Municipality, September-October 2019
Frauenzentrum Voerde e.V., Voerde, November 2019
Deutscher Frauenring LV BW, Freiburg, November 2019
Rathaus Kaiserslautern, Kaiserslautern, November-December 2019
The exhibition has already been translated into English. We are looking for an interested partner to show the exhibition in English-speaking countries.